What is Black Water Damage Restoration in Toronto
Posted in Flood & Water Damage, on March 28, 2022
---
Before beginning water damage restoration in Toronto, the leaks or backups are categorized into 3 different categories and classes: clean water, gray water and black water. Clean water, category one, is the least dangerous form of water damage. While all water damage should be considered emergency water damage in Toronto, black water or category three, is the most severe of all the designations. All categories benefit from immediate attention, but a case of black water damage should only be handled by professionals in water damage restoration in Toronto to ensure efficient sterilization and prevent bacterial growth from occurring on your property.
Emergency water damage in Toronto can be challenging to navigate. On top of water damage itself, finding the right services to adequately address the problem can be overwhelming. At Canada's Restoration Services, our team has over 15 years of experience in handling all categories of commercial and residential water damage. Read on to learn about black water flooding and the hazards it presents.
What Is Black Water Flooding?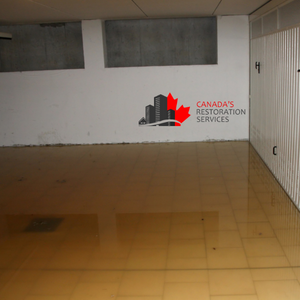 Where Class 1 leaks come from a clean water source, black water is a type of flooding that is heavily contaminated with bacteria, fungi and feces, typically caused by a sewage backup. It can result in severe illnesses if its droplets are inhaled or ingested. If this type of water comes in contact with your skin or an open wound, it could lead to a possible infection. To prevent potential illness, this type of emergency water damage requires immediate attention from certified professionals.
Infections that can arise from contact with black water flooding include hepatitis, gastroenteritis, leptospirosis and giardiasis. The most common disease due to contact with black water flooding is cryptosporidiosis. In terms of symptoms, you may experience a combination of diarrhea, chills, abdominal pain, high fever, dehydration, and loss of appetite. For trusted sewage backup cleanup and black water damage restoration in Toronto, reach out to the team at Canada's Restoration Services, we respond quickly to return your property into a healthy condition.
How Does Black Water Flooding Occur?
Black water flooding occurs when streams, rivers or sewage water rise and flood, with the ground surface water flowing into your property. These waters contain various pathogens and highly facilitate bacterial growth. Additionally, flooding can occur from overflowing toilets or sewage backups.
The Levels Of Black Water Flooding
As mentioned before, black water flooding falls under category three of water damage, meaning that it is the most dangerous form of flooding. The term "black water flooding" originates from the fact that the water is dark and murky.
There are three different levels of black water flooding. Due to its toxicity and contaminants present at each level, dealing with emergency water damage in Toronto as a result of black water flooding should always be handled by professionals in water damage restoration in Toronto.
The first level of black water flooding is limited waste due to a minor toilet overflow. A small area of your property is affected in this case, with no floor or wall penetration.
In the case of level two black water flooding, a property's entire space or room has been flooded. There's a risk of both wall and floor infiltration at this level.
The third level of black water flooding is an advanced flooding situation that consists of water flowing from above or outside into your property. This is caused by an overflowing river or an issue with a septic system. The flooding may be over two feet high and poses a significant health risk, as it will remain there for an extended period.
Responding To Black Water Flooding
If you're experiencing black water flooding on your property at any level, contact Canada's Restoration Services immediately. We will respond within 45 minutes, as our services are in operation 24 hours a day, seven days a week. We have experience cleaning up and repairing water damage due to black water flooding at each level, from level one to level three.
Speak to an expert now for all your water damage cleanup and restoration questions!