What Home Products Can Be Used For Mold Removal in Vancouver
Posted in Mold Removal, on September 16, 2021
---
Mold is a common household problem. When you see it, whether it's in your bathroom, kitchen, basement, or even bedroom, the first thing you want to do is get rid of it. And if that's how you feel, you're not wrong. Mold removal in Vancouver is an integral part of a healthy home, and while some natural and do-it-yourself practices can work in some parts of your home, mold is best removed professionally. Otherwise, it's difficult to tell which species of mold you're dealing with or teh scope of your mold outbreak, which is vital information, especially if it's toxic black mold. When it comes to black mold removal, the best and safest thing is to hire a professional service.
Here at Canada's Restoration Services, we conduct comprehensive inspections for black mold, 3rd party mold testing in Vancouver, and if needed, safe and effective black mold removal.
If you're looking to minimize the mold in your property, learn what home products work and when it's time to call in for professional mold removal in Vancouver.
Bleach and Mold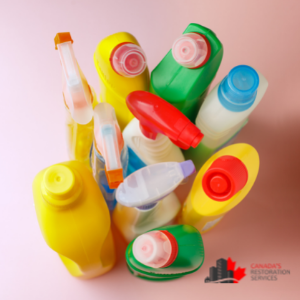 Bleach is often seen as the end-all solution for eliminating mold, however, it only removes mold that's been growing on nonporous surfaces, like tiles, sinks, or anything that's hard plastic, stainless steel, or glass. Because these surfaces are nonporous, the mold can't be absorbed, making it simple to wipe away.
When it comes to soft, porous surfaces like wood, cardboard, couches, insulation, mattresses, and even pillows, mold will grow deep beneath the surface. Although bleaching these materials and cleaning them will eliminate the visible signs of mold, it will grow back with a vengeance if it hasn't been fully removed from the fabric. More often than not, bleach isn't able to penetrate deep into porous materials to effectively kill the source of the mold growth. To guarantee that mold is removed from all kinds of surfaces and materials, the most effective solution is to hire a service for mold removal in Vancouver.
If you are using bleach for black mold removal in your home, make sure you wear gloves and your home is well ventilated to protect yourself from fumes. Bleach doesn't play well with others, so make sure you don't combine it with drain cleaners, soap, and other cleaning products. If used in large amounts and without proper ventilation, it can lead to respiratory issues, such as wheezing, coughing, and throat irritation. The safest thing to do, when it comes to black mold, is call your local Canada's Restoration Services branch for fast mold testing and removal in Vancouver.
Water and Mold
It can be tempting, but don't use water to eliminate mold — even paired with the strongest paper towel on the market, you're just feeding the pesky mold spores the moisture it's actively seeking to survive. If you use boiling water, it might be enough to kill mold on nonporous surfaces, but much like bleach, it's not enough to absorb into porous surfaces and eradicate the source of the growth.
Be Prepared
If you're working with harsh chemicals, personal protective equipment (PPE) is critical. To avoid any possible health risks, it's in your best interest to wear a mask and gloves when removing mold to protect yourself. When you're preparing the area in your home to get rid of mold, ensure there's proper ventilation — a fan, an opened window, or even both — to keep the air circulating and fresh.
Benefits of Hiring a Professional Service
Although bleach and other household items can remove some mold, they can't protect you from the potential health risks or the chance of it growing back. By hiring our specialized team at Canada's Restoration Services, we will effectively eliminate mold in your home with all the necessary health and safety procedures.
Contact Canada's Restoration Services today for mold removal services in Toronto and all major cities surrounding Toronto, Ottawa, Montreal, Edmonton, Calgary and Vancouver.