What Happens When an Asbestos-Containing Property is on Fire?
Posted in Asbestos Removal, on February 25, 2022
---
Asbestos-containing materials lingering in older buildings can pose a severe risk to health and safety when disturbed. By now, most asbestos-containing materials are in – or are nearing – a friable condition, meaning they can easily break down and send harmful particles airborne. It's important to note that even though asbestos fibres are highly resistant to heat and are not flammable, materials containing asbestos that are scorched in a building fire can still represent a significant amount of danger.
A building fire is already a high-risk zone, but on-site threats can become elevated if prior asbestos abatement in Toronto was not completed on the property. Reaching out to Canada's Restoration Services for professional asbestos testing in Toronto can save lives and prevent such hazardous exposure events from occurring in the first place.
Read on to explore the potential dangers raised when asbestos-containing materials are caught in a fire, underscoring why it's crucial to act now on asbestos rather than waiting for disaster to strike.
What Happens To Asbestos In A Fire?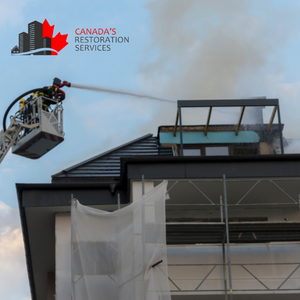 Its resistance to heat and its effectiveness as an insulator were the main reasons why construction companies incorporated different forms of asbestos when developing commercial and residential buildings for much of the 20th century. But by the late 1980s, the mineral was virtually banned after severe illnesses – such as malignant mesothelioma cancer – were linked to exposure to asbestos particles.
Although asbestos fibres are not flammable, a building fire can increase the chances of releasing dangerous particles from materials containing the mineral into the air. Friable asbestos-containing materials – such as tiles, insulation and pipes – can burn and break down, leaving people in the area vulnerable to inhaling it at that time and in the future. If worst comes to worst and the building collapses due to a fire, even more asbestos fibres can be released into the air.
After experiencing a building fire, the last thing anyone needs is to face additional risks from the potential of asbestos lingering on or around the property. This is why it's vital to have prior asbestos abatement in Toronto conducted, as clearing any life-threatening materials from the property can mitigate the hazards of a building fire. If you're unsure whether asbestos-containing materials are present on your property or not, contact a professional at Canada's Restoration Services to schedule asbestos testing in Toronto. Asbestos detection and removal should be handled by experts, as attempting to do both on your own poses a severe risk to your health and safety.
Asbestos Testing & Abatement Toronto
Before moving towards full-scale asbestos abatement in Toronto on your property, asbestos testing in Toronto is required to determine potential danger levels and measure the scope of the procedure. Professionals at Canada's Restoration Services will inspect the property to gauge the possible threats and take samples of any materials potentially containing asbestos.
If asbestos is confirmed to be present, our team follows an intricate and comprehensive removal procedure that involves setting up full containment equipment to prevent the risk of any cross-contamination.
Want to learn more about our services in asbestos testing and removal?
Contact an expert at Canada's Restoration Services now!