What Are Mold Spores and How Do You Get Rid of Them
Posted in Mold Removal, on June 11, 2021
---
Mold spores can enter your home or building through open doors, vents, windows, air conditioning systems or other links between the outdoors and indoors. Most of the time, mold is not a problem indoors. However, in the right conditions, mold spores can take hold and thrive inside. Conditions like moisture, humidity and darkness can create an ideal environment that facilitates the growth of mold. In areas with diverse seasons, like Canada, mold can multiply indoors. That's why if you notice any indicators of mold, it's a good idea to get a professional mold inspection in Toronto.
At Canada's Restoration Services, we provide a full range of mold-related services across the GTA, from mold inspection in Toronto to testing and mold remediation in Toronto.
Why Mold Grows?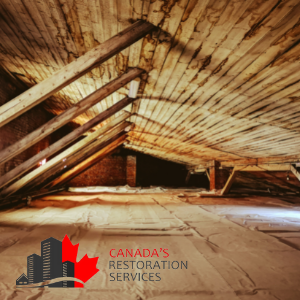 Mold is highly dependent on moisture and humidity to grow and expand. Organic materials like wood and cellulose, which is heavily used in attics, walls, and ceilings, can provide nourishment for mold to survive and infest hidden rooms of the home. These materials can be exposed to moisture whenever it rains, exacerbating the problem. Water causes the cellulose insulation to sag and sits right beside the drywall, woods and studs, developing the ideal conditions for mold to flourish. In addition, organic materials in kitchen sinks and crawl spaces provide the nutrients necessary for mold to quickly grow and expand to other areas.
How To Get Rid of Mold
Once you conduct a professional mold testing in Toronto and effectively identify mold in your home, the best course of action is to call a professional to eliminate all traces of mold from your home.
There are several ways to prevent mold infestations from worsening:
Humidity Control: Humidity and damp spaces are highly conducive to mold growth. By installing a dehumidifier or running the A/C during the summer, you can decrease humidity in your house, limiting the spread of mold.
Fix Leaks: Mold growth is often found underneath sinks and hidden in attics as these areas regularly experience leaks from the roof or piping. Fix any leaks as soon as they happen to prevent damp spots from occurring and allowing mold to grow in the area.
Flood Water Clean Up: If you have a flood inside your home, ensure that all spaces are dry, especially in the basement and crawl space.
Ventilation: Installing vents into your home and attic can create a strategic and regular flow of air designed to minimize moisture and mold as a result.
Call A Professional
Although you can remove mold by yourself, it's safer, more efficient, and cost-effective to get the help of a professional. Our professionals complete thorough mold inspections in Toronto at Canada's Restoration Services followed by 3rd party mold testing to identify dangerous species. Once we've collected samples, we provide swift and thorough mold remediation in Toronto to ensure mold is adequately removed.
Why Choose A Professional?
Mold growth can be dangerous; it can impact air quality and cause asthma, allergies and other severe illnesses. Although it is sometimes possible to remove mold at home, it's always best for you and your family to depend on experience and expertise for mold removal in Toronto.
If you suspect mold growing in your home, contact CRS for mold testing and mold removal in Toronto today!