Watch Out For Christmas Tree Mold This Holiday Season
Posted in Mold Removal, on December 20, 2021
---
Unlike your guests during the holidays, mold spores aren't welcome in your home, but unfortunately, they come in anyway: unexpected, and unannounced. Mold spores are sneaky, and only make their presence known with large infestations that require professional mold removal in Vancouver from the certified professionals at Canada's Restoration Services. The holiday season is often the worst time of year to deal with a full-blown outbreak, but the chance of it happening is quite high. If you'd like to avoid the risk of an outbreak occurring before your holiday gatherings, contact our team for efficient and advanced mold inspections in Vancouver.
To learn more about mold during this holiday season and where you may find it, continue reading.
How Does Mold Get Into Our Homes?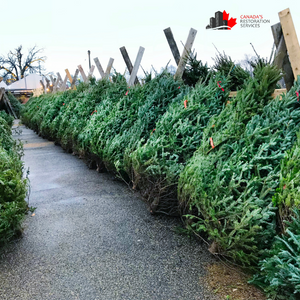 Mold spores are all around us, invisible to the naked eye, but constantly circulating. They're always looking for the right conditions to settle in and fester. Mold spores enter homes through open windows, doorways, ventilation systems, or even attaching themselves to people or pets. While there is no way to eliminate mold spores from entering your home, there are ways to reduce the chances of the spores settling in your home and causing infestations, such as keeping humidity low and maintaining constant ventilation.
Why Mold Loves Christmas Trees?
While your house may not usually provide the conditions for mold spores to settle, bringing in a Christmas tree may change that. In fact, Christmas trees — moisture-rich coniferous softwoods — may actually raise the level of mold spores by five times the average amount. Mold spores naturally attach themselves to the branches of Christmas trees, and once they're in your home, they're free to spread from the tree to any surface that presents the right environment.
By combining a slow decaying tree with a roaring fireplace, humidity, and a constant water supply, mold growth is inevitable. Before you have your holiday gatherings, contact Canada's Restoration Services for mold inspections in Vancouver. Our team will spot all potential places of mold growth, and if needed, we'll effectively eliminate the problem — all before your guests arrive.
Preventing Mold Growth During the Holidays
If you want to avoid the need for mold removal in your Vancouver home during the holidays, there are some preventative measures you could do. To begin with, you should be keeping your home's humidity levels low year-round, but especially during the holidays when you have a Christmas tree in your home. Keep humidity around 35%, and use exhaust fans to keep your home well ventilated.
While you may want to keep the festive spirit going into the new year, consider keeping your tree inside for as short of a time as possible. The longer it's in your home, the more spores there will be, and the higher risk of an infestation occurring. Finally, if you want to avoid the potential of mold growth happening due to your Christmas tree, consider purchasing an artificial one. Not only will an artificial tree pose zero risk of mold growth, but it'll be used for many years to come.
Professional Mold Removal Services
Our team at Canada's Restoration Services is here to help — even during the holidays. We'll arrive quickly and perform comprehensive and advanced mold remediation services.