Tricky Areas That Need Mold Removal in Toronto
Posted in Mold Removal, on September 06, 2023
---
Mold is relentless. Occurring in the environment and playing an important role in natural ecosystems, spores are constantly cycling in and out of buildings. When they settle and start to form an infestation, they can go unnoticed for a few days, and sometimes weeks, especially when they end up in hard-to-access areas. Without professional mold removal in Toronto it can be difficult to successfully eliminate outbreaks in tricky areas. With Canada's Restoration Services, an experienced restoration company in Toronto, Ottawa, Edmonton, and elsewhere across Canada, you can ensure thorough remediation, from mold inspection to removal.
When it comes to mold removal at home or in commercial buildings, here are the most common tricky areas.
Attic Mold Removal
Unless you've converted your attic into a living space, most people don't spend much time up there on a daily basis. Despite the lack of attention it gets, the attic plays a critical role in a healthy home which can easily be compromised by mold infestations. Because of a combination of insulation, wood and heat as well as a susceptibility to ventilation issues and water leaks, the attic is often a breeding ground for mold outbreaks. The experienced specialist at Canada's Restoration Services offers expert attic mold removal in Toronto to eliminate instances of mold in the hazardous and hard to reach space, protecting your indoor air quality and home energy efficiency.
Crawl Space Mold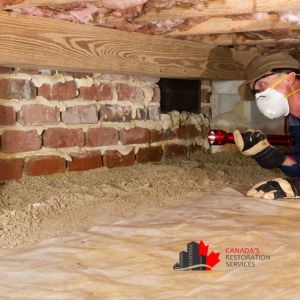 Similar to the attic, crawl spaces are out of the way of everyday life yet prone to mold infestations. Located at the base of a house or commercial building, crawl spaces are often affected by foundation leaks and ventilation problems, which when paired with insulation and storage items left for extended periods of time, trigger and feed mold outbreaks. In addition to mold outbreaks, crawl spaces are common places for pests, rodents, and other intruders to nest. Sometimes they can also be contaminated with other hazardous materials like asbestos. So, when approaching mold removal it's safest to consult with an experienced restoration company in Toronto that knows what to expect and how to navigate the individual challenges of remediation in the crawl space.
Ceiling Mold Removal
The ceiling and walls are prone to water damage from leaks and pipe burst, since most plumbing infrastructure is routed just beneath the surface. In the case of water damage, mold will start to appear in as little as 24-48 hours. Mold tends to show up behind walls deep within the drywall before it starts to appear on the outside, which can make it difficult to detect the exact location of the infestation and the extent of it. At first, the main signs of mold in drywall is a strong musty odour, peeling/bubbling paint, or discolouration. With advanced equipment and a smart approach developed over years of expert mold removal services in Toronto, Canada's Restoration Services can strategically identify the source and scope of an outbreak even in the walls or ceiling to streamline mold removal.
Expert Mold Removal Services in Toronto
When mold shows up around your indoor space, don't do-it-yourself. Call the trusted restoration company in Toronto, Canada's Restoration Services, for complete and effective mold removal.