Tips for Successful Bathroom Black Mold Removal
Posted in Mold Removal, on September 26, 2023
---
When it comes to home maintenance, there's one silent intruder that no homeowner in Toronto wants to encounter: black mold. If you've noticed those telltale signs of black mold creeping into your bathroom, you're not alone. Effective mold removal in Toronto is a common challenge for property owners throughout the city and across Canada especially in bathrooms. To learn more about how to conquer black mold outbreaks threatening your air quality and home, read on or contact the team at Canada's Restoration Services for expert remediation services.
What is Black Mold?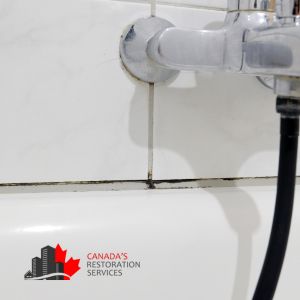 The term "black mold" is commonly used to refer to a specific type of mold called Stachybotrys chartarum. However, it's essential to understand that not all molds that appear black are Stachybotrys chartarum, and not all black molds are toxic. The key differences between black mold and regular mold (which can be various types and colors) include their appearance, potential health effects, and preferred environments:
Essentially, black mold is considered very toxic. It is commonly found in bathrooms due to the steam and moisture caused by showers and bathing. Black mold removal can be a challenging task, especially in your bathroom. It's crucial for your health and the integrity of your home to address the problem promptly.
How to Safely & Successfully Eliminate Bathroom Black Mold?
Safety First: Wear protective gear, including gloves, a mask, and safety goggles, to avoid contact with mold spores and cleaning chemicals. Ensure the bathroom is well-ventilated by opening windows or using exhaust fans to prevent inhaling mold spores.
Identify the Affected Areas: Carefully inspect your bathroom to locate all areas with black mold. Common areas include grout lines, caulk, tile, ceilings, walls, and shower curtains.
Gather Your Supplies: You will need cleaning supplies such as bleach, hydrogen peroxide, vinegar, baking soda, a scrub brush, a plastic scraper, and disposable cloths or paper towels.
Remove Excess Moisture: Fix any water leaks or sources of excess moisture to prevent mold from returning after removal.
Prepare a Cleaning Solution: Mix a solution of one part bleach to ten parts water or use hydrogen peroxide, vinegar, or baking soda, depending on your preference. These substances can effectively kill mold.
Test in a Small Area: Before applying the cleaning solution to the entire affected area, test it in a small, inconspicuous spot to ensure it doesn't damage the surface.
Apply the Cleaning Solution: Liberally apply the cleaning solution to the affected areas using a spray bottle or sponge.
Scrub and Remove Mold: Gently scrub the mold using a brush or scrubbing pad. Use a plastic scraper for stubborn mould, but be careful not to damage the surface. Wipe away the mold residue with disposable cloths or paper towels. Dispose of them immediately in a sealed plastic bag.
Repeat as Needed: Depending on the severity of the mold, you may need to repeat the cleaning process several times to remove it completely.
Rinse and Dry: After cleaning, rinse the area thoroughly with clean water to remove any remaining cleaning solution. Allow the area to dry completely to prevent future mold growth. Use fans or open windows to speed up the drying process.
Prevent Future Mold Growth: Use mold-resistant paint or sealant on bathroom surfaces prone to mold. Regularly clean and maintain your bathroom to prevent moisture buildup.
Bathroom Mold Removal in Toronto
Mold removal in Toronto is no easy task. It is strongly advised to get professional help because of the health hazards involved. If the mold problem is extensive or the affected area is too large to handle on your own, hire a professional in black mold removal: Canada's Restoration Services.