The Truth to 5 Black Mold Myths
Posted in Mold Removal, on September 08, 2021
---
There is a lot of mystery surrounding the properties, behaviour, and risks of black mold in Toronto. Most people learn of black mold through stories and rumours. As a result, they are unaware of when mold is truly toxic or harmless. When you can separate the truths from the myths, you'll be more empowered to know when mold removal in Toronto is appropriate and when you're truly in danger.
Read on to dispel 5 common black mold myths.
Myth: Black Mold is Always Black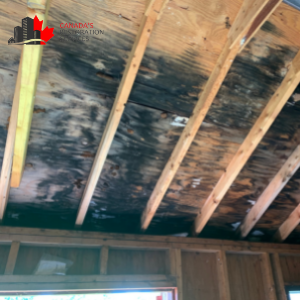 Mold is alive, and each species varies. If you encounter black mold in Toronto, it may, in fact, not be black at all. In some cases, black mold can also appear grey and green. Since you can't always rely on its colour, to stay vigilant against black toxic mold in your home is with the help of professional third-party mold testing services. When you contact Canada's Restoration Services, you can easily identify all types of mold impacting air quality in your life.
Myth: Black Mold is the Only Toxic Mold
While black mold is often referred to synonymously as "toxic mold," it should not be the only mold you treat with urgency. All mold can have some impact on health. Other harmful molds that can contaminate indoor air include Chaetomium, Aspergillus, Penicillium, Fusarium, and Alternaria. These fungi can have toxic effects from infections, autoimmune diseases, and even in severe cases, neurological damages. To be safe, ensure you enlist a professional mold removal service in Toronto. At Canada's Restoration Services, our team collects samples to identify more than just black mold in Toronto.
Myth: Black Mold is Deadly
Black mold in Toronto is definitely something to worry about. On most occasions, long-term exposure will have severe health implications. But fast action can prevent severe illness and long-lasting effects. In this case, toxicity doesn't necessarily equate to lethality. This, however, does not mean that black mold is safe. If encountered, mold removal in Toronto should be initiated as quickly as possible. Leave it to the professionals to determine the risk of black mold in Toronto and all other molds too.
Myth: Black Mold is Always Toxic
Species of mold are hard to track. There are tens of thousands of molds. As such, not every black-coloured mould is dangerous. Toxic mold or "Stachybotrys" is the notorious black mold that has everyone afraid. If you see black, grey, Mold testing is the most effective way to identify this. The most commonly encountered black mold is not Stachybotrys but Cladosporium, which is actually not toxic. If you notice a black-coloured mold in your Toronto home, don't panic, you can leave the space and call Canada's Restoration for inspection, testing, and removal.
Myth: Black Mold in Toronto Effects All Demographics the Same
All toxic molds, including black mold, do not treat everyone the same. At its worst, infestations and exposure to back mold in Toronto can lead to memory loss, respiratory problems, diarrhea, flu-like symptoms, and headaches. Children and those who are immuno-compromised are more at risk for severe health problems due to mold exposure due to their immature lungs and immune system. If you have young kids and suspect mold in your home, it's safest to stay elsewhere until you can get a professional mold removal in Toronto.
Identify and eliminate black mold in Toronto fast with a full range of mold removal services from Canada's Restoration Services.
Contact Canada's Restoration Services today. We offer mold removal services in Toronto and all major cities surrounding Toronto, Ottawa, Montreal, Edmonton, Calgary and Vancouver.