The Truth Behind 5 Popular Asbestos Myths
Posted in Asbestos Removal, on July 21, 2021
---
Older homes in Toronto are constantly being renovated, and with DIY projects on the rise, so is asbestos removal. Asbestos used to be a very popular material used in commercial and residential buildings because of its durability and heat resistance. Homeowners are now aware of the health risks linked to asbestos, but there's still a great deal of misinformation about the topic. At Canada Restoration Services, we perform safe asbestos removal in Toronto and the GTA and educate homeowners on the matter.
To avoid any mishaps regarding asbestos in your home, here are the truths behind 5 popular asbestos myths.
Asbestos Isn't Used Anymore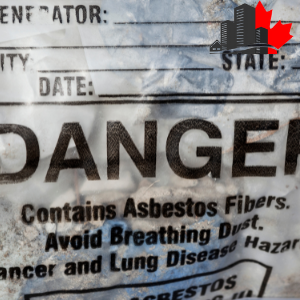 Contrary to popular belief, asbestos is used and can still be found within your home. The majority of asbestos is found in pipes, insulation, floor tiles and other building materials. Even though asbestos was partially banned in 1979, some use was still permitted in Canada until 2018. Even now, there are still industrial cases where asbestos can be used legally. Because so many homes in Toronto are older, they likely have traces of it. If you're uncertain about the chances of asbestos being in your home, it would be well advised to get your home tested. Canada Restoration Services will eliminate any remnants of asbestos with safe and effective asbestos removal in Toronto and the GTA.
Asbestos Should Be Removed As Soon As It's Encountered
If asbestos becomes airborne, then immediately contact Canada Restoration Services to avoid any exposure. However, if asbestos is found in a solid form and undisturbed, it's best to leave it alone. The problem arises when the microscopic fibres are disturbed and released into the air, posing a dangerous health hazard. When in doubt, leave asbestos removal to our experienced and certified professionals.
Repeat Exposure is the Only Way Asbestos Can Make You Sick
While having several encounters with asbestos does increase the likelihood of future health problems, it is possible to become ill after a single exposure. Don't take asbestos exposure lightly, always wear the proper protective gear and call a professional. Your health and safety as our top priority. Our team at Canada Restoration Services performs advanced asbestos removal, eliminating any risk of exposure.
You Can Get Sick By Touching Asbestos
Asbestos isn't dangerous to the skin, but touching it is never a good idea. The health risks that arise from asbestos affect the respiratory system, causing scarring in the lungs and breathing problems. If you have to be around asbestos, you should be equipped with an industry approved respirator mask.
"Asbestos-Free" Packaging Contains Zero Asbestos
On occasion, products entering Canada may contain minimal traces of asbestos, despite them being labelled "asbestos-free."Asbestos-free packaging may only have to indicate a low level. Think of it like decaf coffee; even though it says it's decaffeinated, there are still minimal traces of caffeine in it. So, if a product says it's asbestos-free, there's still a chance that a small amount could be present.
Before Your Renovation
Before you begin knocking down walls and replacing the plumbing in your home renovation, consider when your home was built. If it was earlier than 1990, or even if you're unsure, get your home tested for asbestos. Canada Restoration Services has been the industry leader for asbestos abatement for over ten years, and our experienced and IICRC certified team can help you within a day.
Call Canada's Restoration Services today to book a full range of asbestos abatement services from inspection and testing, to removal.