The Problem with Home Asbestos Testing Kits
Posted in Asbestos Removal, on March 07, 2022
---
When you think that your property may be contaminated with asbestos, it's normal to want to take matters into your own hands to evaluate your risk or chance of exposure. There are at-home kits made available for asbestos testing in Toronto which are intended to equip you with the resources to independently determine whether there is asbestos in your building materials or in the air.
While these kits may seem like a cost-effective approach they can put you in danger. The most safe approach to asbestos removal in Toronto is by reaching out to professional asbestos abatement contractors for inspections and testing.
The best asbestos removal in Toronto is completed entirely by trained professionals, like the technicians at Canada's Restoration services. To help manage the cost of asbestos abatement in Toronto, we offer free or low-interest financing.
Why Use Asbestos Testing Kits?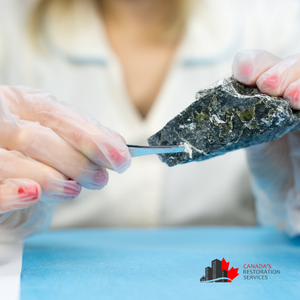 The big draw to at-home asbestos testing kits is their affordability. However the kits vary in prices depending on what kind of samples you are trying to take: solid and friable asbestos testing kits are cheaper than those taking dust samples. Also, you tend to have more control over when and where you send your samples.
Included in most kits are instructions on how to safely collect and send samples. With these testing kits, the process is simple: wearing proper PPE, you gather a sample of a suspected asbestos-containing material and send that to a laboratory of your choice for verification. You receive the results after a few days, which dictates whether asbestos removal in Toronto is required or not. It is always recommended that asbestos abatement be left in the hands of certified professionals.
The Drawbacks Of Asbestos Testing Kits
The most significant risk of using an at-home asbestos testing kit is that you are exposing yourself to dangerous fibres. Most asbestos-containing materials are nearing or are already in a friable state, meaning that they can quickly disintegrate when disturbed and send harmful particles airborne, increasing the chances of cross-contamination. When inadvertently inhaled, occupants may develop severe long-term health conditions, such as malignant mesothelioma cancer.
Another issue with at-home asbestos testing kits is that they aren't always accurate due to sampling errors. Since samples are being conducted by the averaged property owners rather trained asbestos abatement contractors, you may get a negative result back from a testing kit, but in reality, your property is, in fact, contaminated with asbestos, prolonging the exposure event. To ensure accuracy and eliminate any conflict of interests, Canada's Restoration Services sends samples collected during asbestos inspections to third-party labs.
It may also be a challenge for kit users to find the source of asbestos in their homes because they aren't aware of what can be an asbestos-containing material. And that's okay – knowing what is or what isn't an asbestos-containing material is not common knowledge. This is why asbestos testing in Toronto should be left to professionals at Canada's Restoration Services, because not only are we knowledgeable of asbestos-containing materials, but we have experience in safely identifying them.
Testing And Removing Asbestos Around Your Toronto Property
At Canada's Restoration Services, our comprehensive approach to asbestos testing in Toronto will cautiously inspect your home and accurately identify the asbestos-containing material. Our experts will also gauge its threat level before taking and sending samples to a third-party lab for verification. If asbestos is confirmed, we quickly and carefully move towards the removal process.
Have any questions about asbestos testing, detection, or removal?