The Benefits of Electrostatic Cleaning For Your Facility
Posted in Commercial Cleaning, on May 25, 2021
---
As we approach the aftermath of COVID-19, "deep cleaning" methods continue to set a new standard for all types of common-use and high-traffic spaces. In the last couple of years, electrostatic disinfection has emerged as one of the most effective and efficient ways to keep workspaces clean and safe. From retail stores and medical practices to commercial offices, electrostatic disinfection is recognized as an effective repellent for all types of germs, viruses, and bacteria. With the support of the Canada's Restoration Services team you can also expect effective mold removal in Toronto
"Deep cleaning" methods have become the norm for reducing health hazards in workspaces, private offices, and even public spaces. During COVID-19, electrostatic spray cleaning proved to be one of the better disinfecting processes, allowing people to be safe from infectious viruses. Needless to say, traditional cleaning methods cannot meet the challenge. Going forward, "deep cleaning" will continue to be the preferred approach.
Benefits of Electrostatic Spraying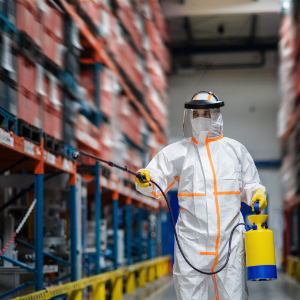 Electrostatic spray disinfection made use of special equipment to spray out an electrostatically charged mist. The mist is designed to completely engulf the surfaces and objects that require special disinfection. The idea behind the methodology is that the cleaning solution contains positively charged particles that very effectively coat surfaces with a protective disinfectant.
In many of today's office workspaces, shared "touchpoints" are common – and these benefit significantly from electrostatic spray, making it the very best option where employees work in close proximity to each other. The benefit of the procedure is that the spray covers all of the hard-to-reach surfaces that conventional cleaning cannot – electrostatic spray is 10 times more effective.
At Canada's Restoration Services, our electrostatic spray cleaner is highly effective in addressing viruses, germs, pathogens, and even the COVID-19 virus. Better still, the methodology is long-lasting and provides a high level of preventive protection that lasts until the next application. It's a cleaning approach that saves valuable time and labour, making it very cost-effective.
Taking Special Care With Safety
As a well-established commercial cleaning company, Canada's Restoration Services has provided professional cleaning services for residential and commercial clients throughout the GTA. Our teams are highly trained and highly experienced in sanitizing and disinfecting traditional offices and open workspaces.
With all of the challenges associated with COVID-19, CRS continues to provide "deep cleaning" services while protecting our employees and our customers. We follow high industry standards, and we maintain the best hygienic procedures. On the job, our team of technicians minimizes client interaction to further preserve the health and safety of everyone involved.
For a Reliable Commercial Cleaning Company Count on the Team at Canada's Restoration Services
Throughout the Greater Toronto Area, Canada's Restoration Services provides leading-edge "deep cleaning" services to a wide range of commercial customers. We maintain the highest industry standards, offering specialized electrostatic spray cleaning during these difficult times. On every job site, we make every effort to deliver 100% customer satisfaction.
If you're currently shopping around for a reputable and reliable commercial cleaning company, count on Canada's Restoration Services for the best results. To learn out more about our services, call us or send us a message online.