The Asbestos Do's and Don'ts Every Toronto Homeowner Should Know
Posted in Asbestos Removal, on March 05, 2021
---
Asbestos is a naturally occurring silicate mineral composed of thin, thread-like crystals. Six types of asbestos differ based on the colour and shape of the fibrous crystals. All six types are carcinogenic and widely listed as highly hazardous materials. The presence of this material creates a risk of contamination, so asbestos testing your Toronto home is advised.
Before it was discovered that asbestos causes very serious diseases, this mineral was widely used in construction. As a good insulator and a fire-retardant, it was often mixed with other materials to improve their physical qualities (for example, cement). Many homes in Toronto were built before asbestos was banned in construction. A significant portion of Toronto homes need asbestos removal. Is your home one of them? There are a few ways to find out.
How to Identify Materials That Contain Asbestos?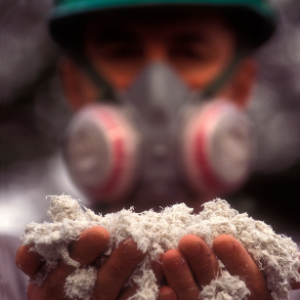 The cheapness and the favourable physical qualities of asbestos had made it a very popular building material during the previous century. So, the age of the building is a significant factor when estimating whether some materials contain asbestos or not. If your home was built before the 1990s, there are likely some materials that include this harmful mineral. Considering it was used for a wide array of products, there are many places to look at.
Here is a list of the most common asbestos-containing materials found in older homes:
Roof shingles
Plaster
Pipe insulation
Popcorn ceiling
Vinyl floor tiles
Floor tile adhesives
House siding
Door gaskets in wood/coal stoves and furnaces
Wire insulation
Duct connectors
Some types of paint
It is important to note that as long as the asbestos' microfibrils are not airborne, asbestos is not necessarily harmful. This means that undamaged, well-maintained asbestos-containing materials do not present a direct threat. Asbestos microfibrils are only harmful when airborne and inhaled, so it is best to leave well-maintained materials alone and ensure they are not damaged in the future. This is especially important for materials that are exposed to the elements or are otherwise more susceptible to damage, like roof shingles, floor tiles and pipe insulation.
Asbestos Professionals: What Do They Do?
Trained and experienced asbestos professionals are equipped with tools and knowledge of the trade that enable them to detect and remove this material safely and efficiently.
Certified asbestos inspectors are fully qualified and trained to:
conduct home inspections
test for asbestos – detecting suspicious materials and taking samples
correctly access the situation with asbestos-containing materials
handle and remove damaged, hazardous materials
provide professional advice on how to correct the problem
If you found out that your Toronto home needs asbestos removal after the assessment, you shouldn't hire the same company to do both. Corrective work should be performed by another company, which is not related in any way to the one performing the assessments.
Make Sure Your Asbestos Inspection Covers a Complete Visual Inspection and Testing
When hiring a professional company in Toronto, their asbestos inspection must include a thorough and complete visual inspection and asbestos testing. The testing includes a careful collection of the samples and their analysis in the lab. If the results turn out positive, the inspector should also provide a detailed written evaluation with information like location, date, level of damage and recommendations on how to handle the problem.
The Dos and Don'ts for Asbestos
Considering how dangerous asbestos exposure can be, we need to take certain precautions when dealing with this mineral. Like with all hazardous materials, there are very clear dos and don'ts. If there are areas in your home contaminated with asbestos microfibrils, this is what you SHOULDN'T DO:
Walk or be active within the area suspected of containing asbestos – The tiny microfibrils are easily disturbed even by the slightest air currents, and they easily attach to clothes. Roaming in a potentially contaminated room, you could collect and spread the microfibrils to other areas in the home.
Sweep, clean, vacuum, and dust the potentially contaminated area – Although it might seem like a good idea to clean the area contaminated with asbestos, it is quite the contrary. Cleaning activities could disturb the microfibrils and make them airborne, causing more harm than good.
Drill, scrape, saw, sand, or otherwise damage asbestos-containing materials – This will only send loads of slow-killing asbestos particles into the surrounding air and aggravate the contamination.
Use items from the contaminated room throughout the home – It will only increase the risk of spreading the microfibrils to a previously asbestos-free area.
What you SHOULD DO if you are having asbestos problems:
Take steps to properly isolate the area and prevent the spread of microfibrils – This includes preventing people and pets from going into the area and isolating it with plastic sheets and duct tape. Such actions ensure that asbestos microfibrils don't spread to other rooms in the home and prevent further contamination.
Wear disposable overalls, gloves, and a mask if you need to enter the contaminated area – Safety is the number one priority if you have to go near asbestos, so having adequate equipment is a must. It is important to cover every part of your body and wear a respiratory mask to avoid exposure. The overalls should be impenetrable and disposed of in two plastic bags as soon as you exit the contaminated area.
Avoid any further damage to asbestos-containing materials – Any type of damage to asbestos-containing materials will only result in more asbestos microfibrils in the environment. If the area also isn't properly isolated, inflicting additional damage is very likely to cause contamination of previously asbestos-free areas.
Contact a professional asbestos remediation company – Instead of removing this dangerous mineral yourself and risking exposure, it is always better to contact a professional asbestos removal company in Toronto.
If you are in need of trusted, certified professionals, reach out to Canada Restoration Service. The experienced staff of CRS is always ready and well-equipped to provide quality service anywhere, anytime. Call today and schedule an asbestos removal in your Toronto home