Stop Mushrooms From Growing In Your Home
Posted in Mold Removal, on January 12, 2022
---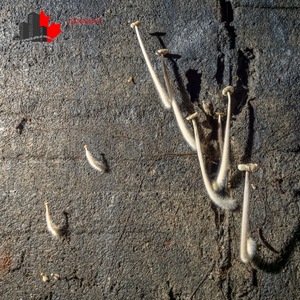 The longer mold is left unremediated the more intense and widespread the infestation becomes. If mold removal in your Toronto home isn't conducted when you first discover it, mold will rapidly spread, taking ownership of your property and sometimes resulting in indoor mushroom growth, especially when conditions that accelerate mold growth remain prevalent. The sooner mold removal in Toronto is scheduled, the less severe the repercussions of a mold infestation will be. Identifying mold in a timely fashion starts with knowing the signs of excess mold and a professional mold inspection in Toronto from Canada's Restoration Services.
To learn more about how mold growth may develop into indoor mushrooms, continue reading.
Causes of Mold Growth
Mold is primarily enabled by excessive moisture. The source of humidity could be anything from an unrepaired leak, poor insulation around windows, or the steam from hot baths or showers. Besides high levels of humidity, mold flourishes in stagnant, stale air and dark environments. A mold inspection in Toronto is a good idea if an area in your property isn't well ventilated and doesn't get much natural light.
Signs of a Serious Mold Problem
There are numerous indicators of a mold infestation in your home, but the odour of it is usually the most obvious sign you're in need of professional mold removal in Toronto. If you're faced with the unpleasant smell of mold when you enter a room, contact Canada's Restoration Services for a mold inspection in Toronto.
Our team will identify any sources of mold growth and implement a plan of action for safe and comprehensive mold removal in your Toronto home. Additional signs of mold include dark spots and patterns scattered on your wall or ceiling. In more severe cases of long periods of infestation, mold can result in indoor mushrooms.
Mushrooms and Mold
Mushrooms are made of a fungus that typically grows outside, but are sometimes found inside homes experiencing a mold outbreak. Like mold spores, mushrooms need organic matter, humidity, darkness, and low ventilation to grow. However, unlike mold, mushrooms need excessive and persistent moisture to grow, whereas mold only needs a small amount. If you see mushrooms growing in your home, it means there's a moisture source that's been in your home for an extended time. For instance, if your home had a leak or experienced a flood and it wasn't cleaned up properly, mushroom growth is possible.
How To Eliminate of Mushrooms Indoors
At Canada's Restoration Services, we advise you not to pull them out on your own — doing so is only a temporary fix. To eradicate the presence of mushrooms and mold in your home, contact our certified mold removal specialists. Our experienced professionals will remove the mushrooms in your home and other potential mold growth that may be in your home.
Don't Wait to Schedule a Mold Removal in Toronto
Aside from mushroom growth, other issues may arise due to untreated mold outbreaks. If mold is left to fester, it will cause numerous health effects, such as migraines, nasal congestion, coughing, wheezing, and fatigue. Additionally, untreated mold growth will only spread further into your home and make mold removal costly and extensive.
Our Canada's Restoration Services team will arrive quickly at the scene and perform comprehensive and thorough mold removal.