Steps to Successful Water Restoration in Brampton
Posted in Flood & Water Damage, on May 30, 2023
---
Floods and leaks are pretty scary for property owners, and they often happen with no warning in Brampton. Water damage restoration needs to be executed thoroughly and quickly. Granted, that sounds like a lot of pressure, but if water damage is not addressed promptly, it will only increase the extent of damage, risk the structure of your home and create an optimal breeding ground for mold which will require mold removal in Brampton. Canada's Restoration Services are award-winning and IICRC certified professionals that have been performing water damage restoration services for over 15 years.
Learn more about the steps to successful water restoration in Brampton.
Inspection and Thermal Imaging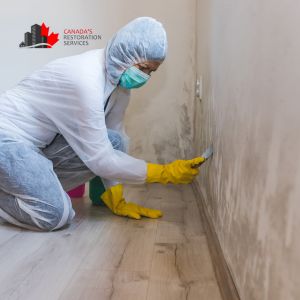 The first step in addressing water damage is urgently calling professionals for help; this is imperative to limit the extent of damage to your property. Canada's Restoration Services are available 24 hours a day, 7 days a week, and guarantee to arrive on site within 45 minutes.
A project manager will inspect the property and identify the source of the flood and rectify it; they will then inspect the type of water present: rain, sewage water, or pipe water, and the level of damage; they will use this information to create an action plan for the water damage restoration.
Thermal imaging technology allows professionals to inspect water damage without any invasive measures. A thermographic camera can see what is not visible to us and pinpoint the source of damage and extent, even if it's not evident or visible to the naked eye.
Water Damage and Mold Removal in Brampton
After inspection and an action plan is created, the next step is removing water and moisture. Specialized pumps and vacuums remove water from the area, and then powerful dehumidifiers remove moisture from your home.
Drying the home and removing moisture and water swiftly after water damage is essential to limit mold growth and the need for mold removal in Brampton. The next step is water damage extraction, this is when materials that are not salvageable are removed and the area is cleaned up and restored, followed by a sanitization process.
After water damage, the potential for mold growth is high, so samples will be taken for mold testing by a third-party accredited laboratory. If the mold is on the property, professionally certified contractors will have advanced technology and equipment to safely and thoroughly remove the mold. Ensuring the mold is completely removed is essential; otherwise, you will be dealing with recurring mold infestations.
More importantly, when professionals do not remove mold, there is a greater risk of disturbing it and spreading it throughout the property.
Effective Water Damage Restoration in Brampton
Canada's Restoration Services is a leader in the restoration industry, as we have been providing reliable, excellent services for over a decade. After dealing with a disaster like water damage, you want to hire the right professionals to identify the source of the water damage - correct it, and thoroughly restore your property so that there is no evidence that water damage ever occurred. We perform the service fully, so you don't need to worry about anything once the job is complete.