When to Test for Asbestos: Signs You Need an Asbestos Inspection
Posted in Asbestos Removal, on March 29, 2023
---
Due to the prevalence of asbestos throughout properties and many adverse health effects associated with it, dealing with the hazardous mineral must be taken incredibly seriously. From inspection to disposal, instances of asbestos must be handled by certified professionals.
Without professional help, you're risking the health and safety of your property and the people around you. If you think that there is asbestos in your property, reach out to Canada's Restoration Services for asbestos removal in Toronto. However, if you're unsure if your property has asbestos but want peace of mind, our team will conduct thorough asbestos inspections and asbestos testing.
Figuring out when you need to test for asbestos can be challenging. Here's what you should know about when to test for the dangerous substance.
Signs You Need an Asbestos Inspection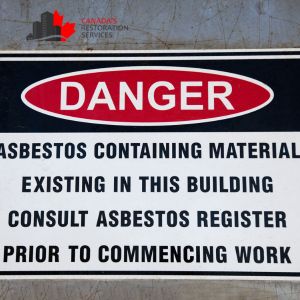 Asbestos often hides beneath surfaces or within materials, so seeing it in plain sight is challenging. However, there are a few ways to tell if your property has the potential to contain asbestos. For one, think about how old your property is; if it was built before the mid to late 1980s, asbestos is likely present in some building materials. Common materials that contain asbestos include plaster, ceiling tiles, floor tiles, vents, ducts, pipes, drywall, and insulation.
The Importance of Hiring a Professional
Asbestos can become airborne quickly and easily during routine property maintenance. It may also become airborne during complex and lengthy renovation projects or due to the aging or degradation of certain materials. If you were to begin construction in your property without professional asbestos testing, asbestos fibres would likely become airborne, resulting in exposure. Asbestos exposure may result in many respiratory issues and illnesses, like mesothelioma or lung cancer. By hiring a professional, you avoid the risk of asbestos fibres becoming airborne and causing long-term health effects.
The Asbestos Inspection Process
Asbestos inspection must be done safely, strategically, and in accordance with government regulations. By hiring a professional for asbestos testing, the affected area will be contained and effectively sealed, ensuring no fibres leave the room. Once the inspection is complete, the area will be cleaned, and the air will be free of harmful contaminants.

At Canada's Restoration Services, our team of experienced and trusted technicians knows how to safely sample asbestos and test for it. With third-party lab testing, the type of asbestos and its concentration will be verified. Following the inspection, we'll conduct safe and comprehensive asbestos removal in Toronto. After removal is complete and asbestos has been safely and legally disposed of, you don't need to worry about asbestos in your property. All sources of asbestos will be identified and eliminated.
Choose a Reputable and Reliable Asbestos Removal Company
When you decide you need an asbestos inspection, either as a preventive measure or by taking safety precautions before a renovation, it's critical that you work with a reputable and reliable asbestos inspection company. Look for certifications, reviews, and a wide range of services provided. At Canada's Restoration Services, our IICRC-certified technicians are thoroughly trained, experienced, and trusted among property owners. We work with all major insurance companies to ensure the asbestos inspection process is as stress-free as possible.