Should You Be Doing DIY Asbestos Testing?
Posted in Asbestos Removal, on May 17, 2021
---
If you're planning on doing some home renovations or remodelling, you should keep in mind that asbestos materials might be lurking in the background. If you suspect the presence of asbestos, it's a good idea to undertake professional asbestos testing before proceeding with any work.
When asbestos-laden materials are left undisturbed, there is little health risk, even if the asbestos remains intact. However, if asbestos material were uncovered for any reason, most professionals would recommend removal. In this way, there is no chance of contamination or health risks.
For asbestos testing in Toronto, there's no question that a trained and certified professional should be doing the work. The idea of taking on a DIY approach just to save some money is short-sighted. It's far too risky, considering the serious health implications with asbestos exposure.
Professional Asbestos Testing in Toronto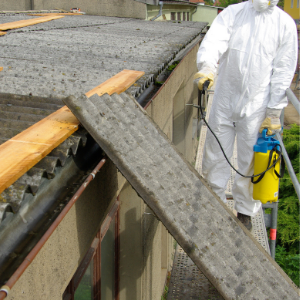 With countless companies offering asbestos testing, it's important to work with a qualified team of asbestos experts. At Canada's Restoration Services, our in-house technicians follow established industry protocols and guidelines.
During our testing procedure, CRS technicians provide asbestos samples to a 3rd party laboratory to verify the material. At the same time, we provide our customers with a cost estimate of any asbestos removal work required.
Working with Canada's Restoration Services, customers are assured of professional asbestos remediation all under one roof – from testing to removal to restoration. We service residential and commercial customers alike.
Avoid DIY Testing – Leave it to Experts
While it might be tempting to choose a DIY approach with asbestos testing, it's a risky prospect. This work is best left to the experts who are appropriately trained. The fact is, improper handling of asbestos materials can be dangerous, and the health risks are simply not worthwhile.
Even though asbestos materials pose little risk when left undisturbed, the potential for asbestos fibres in the air can present a real danger. With a professional team, testing is safely performed, test results are highly accurate, and necessary remediation options can be recommended on the spot.
It's true that asbestos testing kits are available at retail outlets. But even with the dollar savings, nothing compares with the work performed by an asbestos professional. Most importantly, there's peace of mind that no one is exposed to asbestos materials, fibres, or residual dust.
For asbestos removal in Toronto Count on Canada's Restoration Services
Canada's Restoration Services offers asbestos removal in Toronto as part of a package of asbestos remediation services. Our team of technicians is IICRC Certified, with experience and expertise in all aspects of professional asbestos abatement.
Whatever it's residential or commercial, customers in the Greater Toronto Area are assured of complete satisfaction. At CRS, we do it all – from reliable 3rd party testing to safe removal and disposal to comprehensive restoration of the workspace.
When urgent action is required, Canada's Restoration Services has a company division offering services around the clock.
To find out more about our services, please call 1-888-551-0514 or visit our website at www.canadarestorationservices.com.