Good Reasons to Hire a Professional for Mold Removal
Posted in Mold Removal, on August 25, 2020
---
A mold infestation, whether in the basement or the attic, can be a challenge. From the inspection to the removal, to the remediation, the entire process can be stressful. And in reality, mold can grow just as easily in a new home as in an older home. As it is, homeowners who require mold removal in Toronto should hire a professional for the best results.
For those considering a do-it-yourself approach to mold removal, it's an idea worth avoiding. This work requires experience and expertise, and the DIY approach is simply fraught with problems. To be sure, hiring a professional firm for mold removal is the best way to get guaranteed results. More than that, any recurrence of mold is highly unlikely.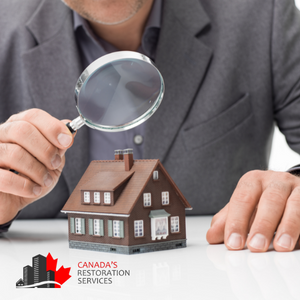 For Mold Removal in Toronto, it's Best to Hire a Professional Firm
With a mold infestation, it's critical to identify the root cause of the infestation. This allows for the proper remedies and for the most effective cleanup. As well, it's important to pinpoint associated damages that may need restoration. The bottom line is to clear and eliminate any trace of mold.
Finding the Source of Mold
Mold can sometimes be tough to find – it often grows in an environment that is well hidden and not easily visible. Mold will most often be found in damp surroundings where there are materials to "feed" on. This might be a humid attic, damp drywall, or even waterlogged wood. When the source of mold has been found, the mold must be removed, and the area must be remediated.
Fully Inspecting the Space
During the inspection stage, a mold infestation will be assessed to determine the scope of the problem. Sample testing might be required in order to establish if the mold species is dangerous or presents health hazards. Here again, it's the professionals who will best determine potential dangers before proceeding with an action plan that incorporates the appropriate precautions.
Preparing an Action Plan
Based on a professional assessment, mold removal and remediation requires an action plan that is both safe and effective. The key is to ensure the complete removal and elimination of the mold infestation. It's a process that requires special equipment and specific expertise. This is the only way to ensure long-term outcomes. Again, a DIY attempt will not likely deliver the desired results.
Potential Health Issues
Regardless of the type of mold infestation, it is in your best interest to remove any mold present in your home. Professionals understand the potential health risks, particularly with species that do pose a hazard. As such, removal and remediation can't be superficial – it's work that must be done right from the start, by experts who are qualified, experienced, and licensed.
Canada's Restoration Services Provides Comprehensive Mold Removal in Toronto
Homeowners who require mold removal in Toronto are assured of 100% satisfaction with the team at Canada's Restoration Services. Our technicians are certified and licensed, with expertise in mold inspection, removal, and remediation. We also have a special construction division that provides "around-the-clock" services when required. For professional mold removal in Toronto, call 1-888-551-0514 or contact us online.