Protect Your Kids With Asbestos Removal?
Posted in Asbestos Removal, on March 04, 2022
---
Because kids are younger and more inexperienced, their youthful innocence and curiosity can sometimes take them down a risky path. With less developed lungs and a minimal understanding of the dangers around them like asbestos and mold. it's important to take precautionary steps to protect kids from mold or asbestos exposure, such as scheduling asbestos testing or mold removal in Mississauga for your property.
Addressing the issue before it becomes worse is the most effective way to safeguard your family and ensure their safety. If the hazardous mineral is confirmed on your property, you should immediately consult with an expert at Canada's Restoration Services about asbestos removal in Mississauga. Both testing and removing asbestos should be completed by professionals only, as improper handling can put everyone at risk.
How Can Kids Become Exposed To Asbestos?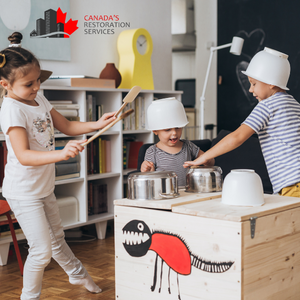 Although incorporating asbestos fibres into materials and other goods has been virtually banned in Canada since 2018, the mineral still lingers in many older properties that were constructed before the 1980s.
The most common way that children can become exposed to asbestos is by roaming around spaces in your home that may contain friable asbestos-containing materials. Friable asbestos-containing materials – whether it be old pipe insulation or ceiling and floor tiles – are any delicate materials that can be easily disturbed. When disturbed, the material quickly breaks down and sends dangerous particles airborne. If you have any old insulation or tiles that you suspect may have asbestos, an inspection and asbestos testing in Mississauga would be highly beneficial.
The Importance Of Asbestos Abatement
Inhaling asbestos fibres is dangerous for anyone. Exposure can lead to the development of severe, long-term health conditions, with the most common being malignant mesothelioma cancer. The risk of developing mesothelioma is low amongst children, but asbestos exposure at a young age increases their risk of developing the illness when they're adults. The very process of testing your child for asbestos can be just as harmful as the exposure event itself, since X-ray radiation can pose a higher risk for children.
Preventing Exposure with Asbestos Removal Services
If you have concerns about asbestos on your property, contact a Canada's Restoration Services professional to arrange for asbestos removal in Mississauga or mold removal in Mississauga as soon as possible. In the meantime, educate your children on the dangers of asbestos exposure and inform them of the spaces in your home where asbestos fibres may be lingering. This includes your attic, basement or crawl space. Warn them not to touch or disturb any deteriorating or aging materials. You should also avoid vacuuming or sweeping the areas of your home that may contain asbestos, especially spaces with cracked or damaged floor tiles.
More importantly, leave the cleanup to experts at Canada's Restoration Services. Dealing with asbestos is dangerous, but our technicians have comprehensive training and experience in properly removing the mineral. Full containment gear is deployed during the removal process to avoid any risk of cross-contamination.
We understand reducing the risk of exposure especially for your children is of the utmost importance. The Canada's Restoration Services team is highly trained and happy to answer any questions you may have about asbestos removal in the Greater Toronto Area.