Primary Causes of Attic Water Damage
Posted in Flood & Water Damage, on May 24, 2023
---
Attic water damage in Toronto can cause severe damage to a property. Water damage destroys the home's materials, requiring their removal and replacement, and may lead to a mold infestation. Learning how to protect your home and keep it in top shape can help you prevent the risk of attic water damage. Canada's Restoration Services is an award-winning company providing water damage restoration and mold removal in Toronto and has provided thousands of homeowners nationwide with remediation services.
Read on to learn more about the causes of attic water damage and how to recognize when you may need mold removal in Toronto.
Roof Leaks from Ice Dams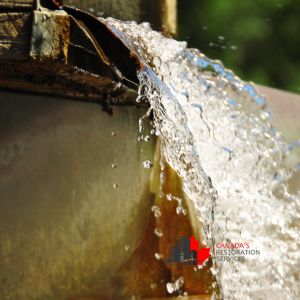 When it comes to roof maintenance, property owners often believe the condition of their shingles is the only element they need to concern themselves with, when in fact, many factors impact the roof's longevity and functionality.
A properly insulated attic is essential to protect your roof, especially during winter. When an attic is not properly insulated, warm air escapes from the house to the roof, which will melt the snow. The snow will then refreeze when it reaches the colder areas of the roof, creating an ice dam. Ice dams will block the water flow from the roof and cause it to back up into the roof and cause a leak. Once water enters through the roof of a property, it will enter the attic and cause water damage.
Water damage is particularly problematic as it can create a moist environment that is ideal for mold to grow, thus causing a mold infestation. Mold infestations contaminate air quality and can cause the materials that the mold is growing on to rot.
Defective Roof Shingles
Harsh weather causes attic water damage. Snow, rain, and harsh winds can compromise the condition of your shingles over time. If you begin to lose shingles or they become damaged, they can then allow water to enter the home through the attic causing water damage to your property.
Also, if your shingles are old and need replacing, they are more prone to getting damaged as they may not be able to bear harsh weather conditions, and will likely allow leaks to seep through. So definitely be aware of the lifespan of your shingles and change them on time to prevent the chance of attic water damage in Toronto.
Poor Ventilation and Leaking HVAC
Another cause of attic water damage is poor attic ventilation. Warm moist air moves up from the house and becomes trapped in the attic; this moisture buildup has the capacity to cause water damage and will require water damage restoration in Toronto.
Another cause of attic water damage is a leaking HVAC in the attic. If you notice bubbling paint, brown marks on the ceilings or the smell of mold, you need to determine the source of the water damage.
Canada's Restoration Services for Water Damage in Toronto
Canada's Restoration Services are industry experts helping homeowners in large cities across Canada with water damage restoration. We are a team of certified professionals who are thorough and will never cut corners. We work with all insurance companies and can bill your insurance directly.