Preventative Asbestos Removal vs Reactive Asbestos Removal
Posted in Asbestos Removal, on May 19, 2022
---
While asbestos is no longer actively used in construction around Canada, asbestos testing in Mississauga continues to identify the mineral in building materials in residential and commercial properties across the city. Sometimes, the asbestos discovery comes by surprise, making renovations or routine maintenance more hazardous than initially expected. Before initiating construction in properties, asbestos inspections by certified home restoration companies should be carried out to guarantee everyones' health and safety.
To learn more about preventative versus reactive measures for asbestos removal, continue reading.
Common Asbestos Containing Materials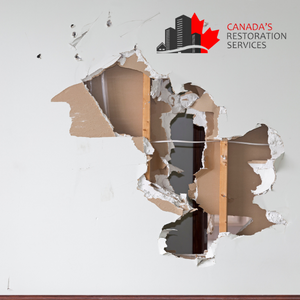 During the peak of asbestos usage in Canada, it was used in various building materials in commercial and residential properties. Asbestos can be uncovered throughout your property, ranging from pipes, gaskets, tiles, and paint. Asbestos is incredibly strong, durable, and fireproof, making it an excellent material for areas with high foot traffic and areas that require insulation.
Asbestos Disruption by Surprise
Unfortunately, asbestos can be disrupted easily and unexpectedly, making reactive asbestos exposure an immediate necessity. There are numerous incidents that could make asbestos exposure an unpleasant surprise, such as storms or accidents. Serious storms, such as high winds or severe water damage, may uncover asbestos within your property, like within drywall, insulation, or pipes. In the case that a treacherous storm or accident reveals asbestos in your property, contact Canada's Restoration Services, one of the top home restoration companies in the region, for asbestos abatement services. Our certified and experienced professional team will ensure that your property is safe and free of the hazardous mineral once we've finished the job.
Planned Incidents That May Disturb Asbestos
Renovations or maintenance often uncover asbestos in older homes. Because asbestos is so prevalent in pipes and gaskets, any plumbing maintenance may expose the hazardous mineral. Additionally, if you're looking to replace the flooring in your property, from older linoleum tile to a new hardwood, you may also face the risk of being exposed to asbestos. When planning renovations in your residential or commercial property, think about how old the property is — if it's older than 30 years old, it's wise to be cautious about asbestos. Keep asbestos exposure at bay, and contact Canada's Restoration Services for asbestos testing in Mississauga. By conducting thorough and advanced asbestos testing before any projects commence, you're able to prevent asbestos exposure to anyone who enters your property.
Preventative vs Reactive Asbestos Removal
Preventative asbestos removal leaves you with no shocks or possible health scares. By conducting asbestos testing and asbestos removal as soon as possible, there's no worry about exposure or surprise costs for removal that wasn't in the budget. Reactive asbestos removal will likely happen due to a surprise incident, such as a severe storm or accident, but unfortunately, if the asbestos has already become airborne, it's difficult to contain the fibres until professional abatement is conducted.
With preventative asbestos removal services from Canada's Restoration Services, our IICRC certified technicians will ensure that asbestos has been completely eradicated from your property so you're able to carry on in a safe and healthy environment. Keep everyone around you safe with preventative asbestos testing and removal services.
Schedule a complimentary asbestos inspection in Mississauga today.