Prepare for Demolition with Asbestos Removal in Toronto
Posted in Asbestos Removal, on December 12, 2022
---
Home renovations are exciting but they can get stressful very quickly. Renovations require constant planning, design choices, demolition. And even with all the planning that goes into it, there's still the chance that you'll be met with frustrating surprises like asbestos. When it comes to construction and demolition during renovations, the chances of asbestos being disturbed are incredibly high, especially if your home was built in the mid to late 20th century. Rather than be caught off guard by potential asbestos exposure, contact a professional for asbestos testing and asbestos removal in Toronto. While you may not have much room in your renovation budget for the asbestos removal cost, it's what you need to do to guarantee your health.
Here's how you can prepare for demolition and renovation with asbestos removal in Toronto.
Risks of Being Exposed to Asbestos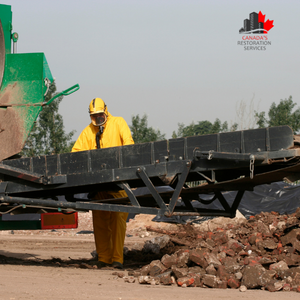 Asbestos is common around many residential and commercial properties, making the chances of exposure high, especially in older buildings. However, it's hard to know if you've actually become exposed to asbestos; it's impossible to see the white fibres when they become airborne, and you generally won't feel adverse health effects until almost a decade after exposure. Asbestos exposure will lead to several asbestos-related illnesses, like asbestosis and mesothelioma, among other respiratory issues.
Why Conduct Asbestos Inspection Before Demolition
The best way to prevent asbestos exposure is by getting a professional asbestos inspection. At Canada's Restoration Services, our certified and experienced specialists will uncover all traces of asbestos in your property and conduct efficient and safe asbestos removal in Toronto. Without conducting an asbestos inspection before you begin your demolition, the risk of encountering asbestos and inhaling dangerous fibres is high. Asbestos fibres can become airborne at the slightest disturbance, especially if it's highly friable. Friable asbestos is often found in drywall and insulation, both of which are common culprits of demolition and renovations. Non-friable asbestos, which is often found in vinyl and linoleum floor tiles, however, takes more force to become airborne, but with the proper demolition tools, it's still possible. Before you change your floors, contact Canada's Restoration Services for an asbestos inspection. Our team of trusted and certified abatement and restoration professionals will quickly eradicate all traces of the hazardous mineral and safely dispose of it so you can carry on with your projects. Not only will we eliminate all asbestos in your home, but we'll also help you manage asbestos removal costs with our financing options.
Where to Find Asbestos
It's important to keep in mind where asbestos may be lingering in your property. Due to its heat resistance and strength, asbestos was widely used in pipe wrappings, wire insulation, roofing, as well as in ceiling and floor tiles. If your home was built before 1985, asbestos is likely present throughout your property, so conducting a professional asbestos inspection before renovations commence is wise.
Renovate and Demolish With Peace of Mind
At Canada's Restoration Services, we understand that you want to begin your renovation and demolition as soon as possible. However, it's imperative to remember that asbestos may lurk beneath the surface and could cause many negative health effects. Before you knock down walls, change the bathroom layout, or convert your attic into a new living space, contact a professional for asbestos abatement services.