Most Common Species of Black Mold in Toronto
Posted in Mold Removal, on August 24, 2023
---
Black mold, known for its dark and ominous appearance, is a common enemy for households and commercial buildings that overwhelms property owners with its potential health risks and aesthetic concerns. It's crucial to understand the most prevalent species of black mold and the importance of timely mold removal in Toronto. If you spot mold in your property, get the professional guidance you need with black mold removal from the IICRC-certified experts at Canada's Restoration Services.
What is Black Mold?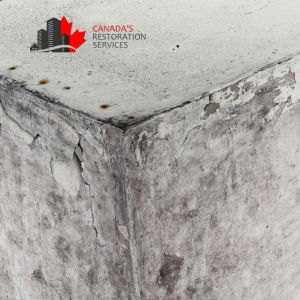 Black mold, scientifically known as Stachybotrys chartarum, is a type of fungus that thrives in damp and humid environments. Notorious for its dark green to black color and its ability to release mycotoxins, which can pose health risks to individuals exposed to them. These mycotoxins can lead to respiratory problems, allergic reactions, and other health issues, making mold removal in Toronto with a professional and certified restoration company vital.
Common Species of Black Mold in Toronto
Stachybotrys chartarum (Black Mold): This is the most well-known species of black mold. It often appears slimy and greenish-black in color. Stachybotrys chartarum thrives on materials rich in cellulose, such as wood, paper, and drywall. It usually develops in areas with chronic water damage, such as leaky roofs, pipes, or basements. Due to its potential health risks, timely black mold removal is essential.
Aspergillus Niger: While not entirely black, Aspergillus niger can appear dark in color. It commonly appears as a black mold variant and can be found on walls, ceilings, and even food items. It's especially prevalent in environments with poor ventilation, such as bathrooms and kitchens. Despite its common occurrence, it still requires proper mold removal in Toronto to prevent its growth from escalating.
Cladosporium: This mold species is often greenish-black and has a powdery appearance. Cladosporium can grow on various surfaces, including fabrics, carpets, and wooden surfaces. It's a common allergen and can trigger respiratory symptoms in sensitive individuals. Swift mold removal in Toronto can help mitigate its impact on indoor air quality.
Importance of Black Mold Removal in Toronto
The humid climate of Toronto provides a conducive environment for mold growth, making mold removal in Toronto a crucial undertaking. Black mold removal is essential for several reasons:
Health Concerns: Exposure to black mold and its mycotoxins can lead to a range of health problems, including allergic reactions, coughing, sneezing, and respiratory issues. Removing the mold promptly can help protect the health of your family.
Structural Damage: Black mold can deteriorate building materials such as wood and drywall, compromising the structural integrity of your home. Addressing the issue through mold removal in Toronto can prevent costly repairs down the line.
Improved Indoor Air Quality: Mold spores can become airborne and impact indoor air quality. By removing black mold, you can ensure that your home's air is healthier to breathe.
Prevent Future Growth: Mold growth is often a sign of underlying moisture issues. Proper mold removal includes addressing the source of moisture to prevent future infestations.
Get Trusted Mold Removal Services with Canada's Restoration Services
If you notice black or even dark gray spotting around your property, near pipes and and other water-dependent appliances, you are likely dealing with black mold. For effective remediation, talk to the professionals at Canada's Restoration Services for mold restoration services, from inspection to remediation.