Moisture Sources That Contribute to Mold Outbreaks
Posted in Mold Removal, on October 12, 2023
---
Mold infestations occur when mold spores encounter favourable conditions for their growth, with moisture being a primary factor in this process. There are several potential sources of moisture that contribute to and facilitate the development of mold outbreaks. Mold is a constant concern in households, so it is helpful to know the causes of mold and how we can prevent it. Canada Restoration Services are a professional mold removal services and restoration company that can eradicate your mold and moisture issues, so you and your family can enjoy safely.
Here are the most common sources of moisture that lead to mold infestations.
Common Causes of Moisture & Mold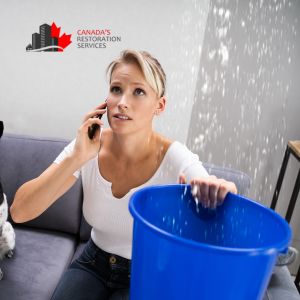 Water Seepage: Mold outbreaks can be triggered by leaking pipes, roofs, or windows, which introduce a continuous supply of moisture into your living space, creating an ideal environment for mold proliferation. Even minor leaks, when left unattended, can lead to mold issues over time.
High Humidity: Elevated indoor humidity levels, often resulting from inadequate ventilation or climatic conditions, promote mold growth. Generally, relative humidity levels exceeding 60% are considered conducive to mold development.
Flooding: Flooding caused by heavy rainfall, storms, or plumbing mishaps can saturate construction materials, creating an optimal breeding ground for mold. Swift cleanup and thorough drying are essential after a flooding incident. Restoration company, Canada Restoration Services, has the tools and expertise to repair all water damage caused by flooding.
Condensation: When warm, moist air comes into contact with cool surfaces like walls, windows, or water pipes, condensation can form. This moisture can be absorbed by building materials, contributing to mold growth.
Ventilation: Inadequate ventilation in areas with high moisture levels, such as bathrooms and kitchens, can trap moisture indoors, providing an ideal environment for mold to thrive. Activities like cooking without adequate ventilation or drying clothes indoors can introduce moisture into the air and onto surfaces.
Moisture in Basements and Crawl Spaces: Basements and crawl spaces are often susceptible to dampness and moisture infiltration. Improper waterproofing and drainage can result in moisture accumulation, leading to mold issues.
Appliance Leaks: Dysfunctional appliances such as dishwashers, washing machines, or water heaters can leak water, creating localized moisture issues conducive to mold growth. Air conditioning units are notorious for buildup of condensation and mold.
Damp Materials and Fabrics: Building materials like drywall, curtains, carpeting, upholstery, and even wet clothing, can support mold growth when they remain wet or damp and are not promptly dried.
Neglected Gutter Systems: Clogged or malfunctioning gutters and downspouts can cause rainwater to overflow, infiltrating the building and causing moisture-related problems.
Outdoor Landscaping Challenges: Poor yard drainage, improper grading, or landscaping that channels water toward the foundation can introduce moisture into your home, particularly in basements or crawl spaces.
Reliable Mold Removal Services in Toronto
To prevent mold outbreaks, it is crucial to eliminate these sources of moisture. This may involve repairing leaks, enhancing ventilation, maintaining appliances, and implementing measures to regulate indoor humidity levels. Regular inspections by a professional mold removal services company such as Canada Restoration Services can help maintain a dry and mold-free home. In cases where mold growth is suspected, taking remedial actions promptly is essential to prevent further damage and potential health risks.