Look Out for Black Mold Exposure
Posted in Mold Removal, on July 06, 2021
---
Any mold infestation is bad enough, but uncovering black mold in your home is even worse. If undetected for long, black mold in Toronto is not only damaging to the structure it infiltrates, it also threatens the health of everyone in its vicinity. It's essential to know the signs of a black mold infestation, exposure, and when you're vulnerable to it. If you suspect black mold is in your home, emergency mold removal in Toronto is necessary sooner rather than later. So, if you feel you're at risk, Canada's Restoration Services offers fast, safe, reliable testing and black mold remediation.
Read on to learn how to detect black mold in your home and avoid exposure to your family.
Odour & Mold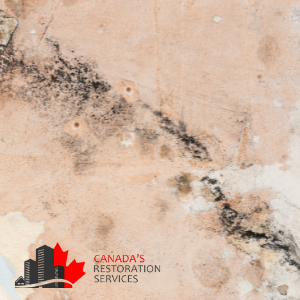 Odour is a telltale indicator that your house has a mold infestation. Mold has a pungent, musty smell, and you can smell it as soon as you enter a room. If you notice that smell in a room but can't visibly see anything, it could be under the wallpaper, drywall, or tiles. Mold thrives in dark, damp places, so unless it's a house with water damage, mold could be hiding beneath the surfaces. The intrusive odour of mold becomes most apparent after an infestation has grown substantially. Hence, it's a good idea to call for mold removal in Toronto as soon as you notice a pungent and undeniable odour.
Visibility of Mold Infestations
If your home has suffered water damage through burst pipes, sewage backup, or flooding, and it wasn't adequately restored, mold is more likely to be present. Dark rings or spots on the ceilings or walls are an indicator of mold from water damage. Although these spots may not be mold exactly, chances are it's still hiding beneath the surfaces. As the name suggests, black mold is typically black in colour, sometimes looking like a black stain, while other times appearing to have furry growths. To be certain, you can call Canada's Restoration Services for professional mold testing in Toronto, so you can determine if the species of mold you're dealing with, is in fact, black mold in Toronto.
Health Problems & Exposure
If you can't see or smell mold in your home, pay attention to any potential symptoms you may be experiencing. Black mold exposure can be detrimental to your health, with typical symptoms including coughing, wheezing, eye and skin irritation, and sinus problems. For people who are immunocompromised, it can lead to difficulty breathing, and a higher risk of skin or lung infections. In more severe cases, black mold exposure has been linked to memory loss, migraines, and bleeding in the lungs and nose. If any health conditions appear, it's best to be safe rather than sorry, with professional black mold removal in Toronto is necessary as soon as possible.
Structural Problems
Black mold in Toronto is typically a symptom of water damage, which leads to significant problems with the structure of your home. The spread of black mold can infect personal belongings, integral building materials, and the overall safety of your home.
Black Mold Removal in Toronto
With black mold, abatement is a matter of safety and security. If you have concerns that your home may be affected, call for professional testing and removal.
Contact Canada's Restoration Services today for emergency black mold remediation.