Long-Term Effects of Black Mold Exposure
Posted in Mold Removal, on July 14, 2022
---
When black mold is present in your home, it can be stressful for you and your family, and the various symptoms and possibilities are undeniably problematic, especially when you don't know where the mold is coming from. Thankfully, mold inspections in Toronto are an effective and free way to identify the source of mold exposure in your home.
To ensure your place is completely safe, you should hire a professional for black mold removal. At Canada's Restoration Services, we understand that mold removal costs can be a financial burden, so we provide upfront and affordable pricing.
Continue reading to learn about the long-term effects of black mold exposure.
What is Black Mold?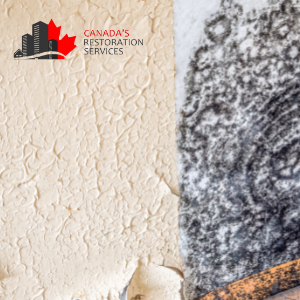 Black mold is a dangerous fungus that can steer to many health complications if not mold detection doesn't occur quickly. Toxic black mold causes long-lasting health issues that must be cared for as soon as possible. Black mold can be found in homes, schools, offices, or other indoor facilities. This fungus thrives on surfaces high in cellulose fibers, including paper, wood, fiberboard, lint, and gypsum board. The best way to prevent exposure and its long-term effects is to understand and recognize the signs of infestation including a strong odour, black staining, and water damage. For complete mold detection and black mold removal, reach out to the professional remediation team at Canada's Restoration Services.
Short-Term Side Effects
The symptoms of short-term mold exposure vary for every individual. If you are more sensitive to mold or have allergies, your symptoms will likely be more severe.
Symptoms and side effects include:
Nasal and sinus congestion
Itchy, red, or watery eyes
Wheezing / trouble breathing
Skin irritation like hives or rashes
And more
Canada's Restoration Services has recognized and are aware of the short-term side effects of exposure to black mold. Our team highly suggests having your mold inspections in Toronto performed by licensed professionals to ensure safety.
Long-Term Side Effects
When exposed to black mold for an extended period, your physical symptoms worsen, and mold removal costs increase due to further damage. It's crucial to fix these problems right away so that the long-term effects of mold spore exposure don't take part of your everyday life. More research has been done on the connection between long-term black mold exposure and a range of health problems that were not identified years prior.
Long-term effects are different for every person, although the most common symptoms are as follows:
Respiratory infections
Frequent asthma attacks
Bronhitis
Cancer in the cells of the liver
Kidney Disorders
Diseases of the joints and bones
Brain and liver swelling
The Best Mold Removal Services in Toronto
The technicians at Canada's Restoration Services have decades of experience putting us ahead of our competitors. We only hire the best professionals that are certified and experienced in the field. As our customers are our number one priority, we do everything we can to get you back to living a healthy life. Taking action as soon as you know mold is present is vital; the longer you wait, the worse it will get.
Get Started with Black Mold Removal Today.