Key Steps to Manage Laundry Room Mold in Toronto
Posted in Mold Removal, on May 23, 2022
---
Basements, attics, kitchens, and bathrooms are often the first areas that come to mind when thinking of where mold may be in your home. However, it's important not to forget about your laundry room seeing as it provides an ideal target for black mold growth, from moisture to cellulose. If you notice the faint yet distinct smell of mold, contact Canada's Restoration Services for a laundry room mold inspection in Toronto. The high moisture and low ventilation in your laundry room could mean that black mold is present. In that case, black mold removal should be conducted right away to limit your exposure.
To learn more about mold growth in your laundry room and how to manage it, continue reading.
Why is Mold Attracted to Laundry Rooms?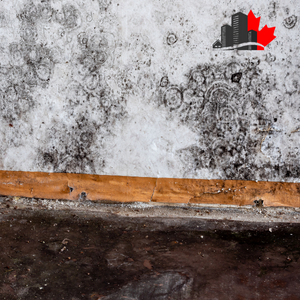 Because a laundry room is equipped with plumbing for sinks, washing machines, and sometimes water heaters, it can easily fall victim to a mold infestation if there is a leak. Paired with the heat of the dryer and low ventilation, the laundry room easily becomes an inviting environment for traveling mold spores.
The temperature of your laundry room is a significant factor as well; any room above twenty degrees welcomes mold spores with open arms. Additionally, any laundry piled in a hamper or left in the washing machine is a damp environment, providing an ideal feeding ground for mold. To keep mold growth at bay, keep clutter at a minimum.
How to Know if Mold Has Infiltrated Your Laundry Room
The smell is the most prominent indicator of mold in your laundry room. Laundry rooms are often small, so catching a whiff of the pungent earthy odour is easy if mold is present. If you notice the unpleasant smell of mold in your laundry room, contact Canada's Restoration Services for a mold inspection in Toronto. A mold inspection from our trusted professionals will effectively determine all sources of mold outbreaks in your laundry room and beyond. Not only will we discover all affected areas in your property, but the species of mold as well. Because laundry rooms are excessively humid, it may attract black mold, making black mold removal an immediate necessity.
How to Prevent Mold Outbreaks
Prevention is the best solution, and it's your best line of defence when it comes to keeping mold infestations out of your laundry room and home. To keep moisture levels low in your laundry room, you can take a few simple steps, like opening a window to improve ventilation, keeping your washing machine door open to dry it out, and keeping your laundry room clean and clear. In more serious circumstances, you may need to fix water damage or pipe leaks, invest in desiccants to absorb air moisture, or get a dehumidifier to ensure that moisture levels are low and controlled in your laundry room.
Mold Removal in Laundry Rooms
Mold removal should only be conducted by professionals to ensure the job is complete and all sources of mold in your property are eradicated. If mold has infiltrated your laundry room, it has likely spread to other humid areas of your property. Call Canada's Restoration Services for thorough mold inspections and comprehensive mold removal services. Our experienced technicians will eradicate unsightly and unhealthy mold infestations from your home.