Is Your Aging Property in Need of Asbestos Removal?
Posted in Asbestos Removal, on May 12, 2023
---
Aging properties often come with many challenges, but one of the most serious is the presence of asbestos. Asbestos is a naturally occurring mineral used widely in construction in the 20th century due to its fire-resistant and durable qualities. However, we now know that asbestos is highly toxic and can cause serious health problems, including lung cancer and mesothelioma. If you own an aging property, it's essential to be aware of the risks of asbestos exposure and ensure your property is safe with asbestos testing and asbestos removal in Toronto.
Keep reading to learn if your aging property is in need of asbestos removal.
Age of the Property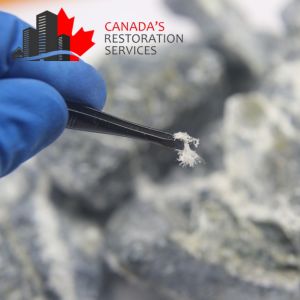 The prevalence of asbestos in your home is entirely due to the age of the property. For properties built in the last couple of years, asbestos won't be an issue. However, for houses built before the mid to late 20th century, it is likely present. It's commonly found in insulation, drywall, pipe wrappings, and popcorn ceilings. Once people realized the health risks associated with asbestos, the usage of the mineral significantly declined.
If you reside in a property that was built before the mid-1980s, contact Canada's Restoration Services for asbestos testing. If our team discovers the hazardous mineral lurking in your home, we'll conduct comprehensive and advanced asbestos removal in Toronto and the surrounding areas.
Health Risks of Asbestos
Asbestos in your home is to be taken incredibly seriously. If asbestos becomes airborne, it may result in numerous health implications. When you inhale asbestos fibers, they will attach themselves to your lungs and stay there. This will lead to scarring, inflammation, and many other respiratory issues. Over time, asbestos exposure may also lead to mesothelioma, lung cancer, and asbestosis. However, many asbestos-related illnesses don't show symptoms until decades after exposure.
When to Take Action Against Asbestos
If asbestos is left untouched, it doesn't generally pose significant health risks. However, you cannot guarantee when asbestos will become airborne. Some forms of asbestos, like friable asbestos in insulation or drywall, become easily airborne. Whereas non-friable asbestos, like asbestos found in vinyl tiles, doesn't become airborne as effortlessly. However, asbestos still may become airborne, given the right circumstances, like demolishing a floor when renovating.
Taking action against asbestos is recommended before renovating or conducting maintenance work on a property to avoid exposure. Asbestos testing services from Canada's Restoration Services will uncover all traces of asbestos, determine the type through third-party lab testing, and the concentration of it throughout the property. Once we determine the type of asbestos and all locations of it, our team of specialists will remove and safely dispose of asbestos from your home. Once we're finished, you'll be able to carry on with your renovation or maintenance projects safely and seamlessly.
Leading Asbestos Removal Services
Canada's Restoration Services has been the country's leader in the restoration industry for over a decade and works with all major insurance providers to ensure your asbestos removal goes smoothly. Our IICRC-certified professionals will walk you through the entire asbestos removal process and guarantee that all traces of the mineral are eradicated.