Is Mold Impacting Your Workplace Air Quality
Posted in Mold Removal, on September 07, 2021
---
Mold spores exist naturally in our environment, circulating and actively seeking the right conditions for growth. Mold spores are just the beginning of infestations in our indoor spaces, and when these spores find their ideal environment, mold thrives, resulting in outbreaks and infestations. Without professional mold removal in Montreal, it's difficult to effectively detect and eliminate mold until it becomes a significant problem.
Unchecked, mold spores and infestations multiply, they can even lead to the growth of various species which can severely affect the indoor air quality of your workplace. Depending on the species of the mold, the impact to the indoor environment and employees can be severe. To get ahead of outbreaks before they can be harmful, contact Canada's Restoration Services for mold testing in Montreal as well as urgent toxic black mold removal.
When it comes to mold removal in Montreal, our team works quickly and diligently to eliminate all traces of mold, keeping everyone safe. Continue reading below to learn how mold growth affects air quality in your workspace and how to improve it.
How Does Mold Affect Air Quality?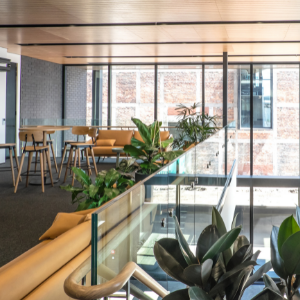 Mold growth and poor air quality go hand in hand. Mold spores are dispersed through the air, looking to land in dark, humid environments with stagnant air, contaminating and polluting the environment where they settle. If mold is growing in your workplace, chances are there is already an existing air quality problem.
Mold growth and poor indoor air quality at work lead to serious health effects for regular occupants of that space including employees and customers. Continuous or extended exposure to mold leads to various respiratory issues, from wheezing, shortness of breath, bronchitis to constant allergy-like symptoms. The impact for those with weakened immune systems can be even more severe, leading to asthma, skin issues, and lung problems. As mold species get more toxic so do the physical symptoms.
Without a professional mold inspection, it's hard to know how hazardous the mold is to your health. Allergenic mold is often presented with lighter symptoms, whereas toxic black mold has severe symptoms that can develop into respiratory issues. To keep everyone around you safe, get black mold removal performed as soon as possible.
Conditions for Mold Infestations
Mold festers in spaces that have excessive humidity and minimal airflow. To keep mold growth at bay, make sure your workspace is light and airy, well ventilated, and has low humidity levels. Keeping humidity low is critical in preventing future mold infestations. A dehumidifier can effortlessly dry out the environment and a hygrometer is a fantastic tool to tell you the humidity levels in your space. For optimal air quality and a low chance of mold growth, try to maintain humidity levels around 30%.
Benefits of Professional Mold Removal
If the direct source of mold growth hasn't been identified, the chances of mold growth coming back with a vengeance are high. Whatever you do, don't approach severe mold outbreaks with a do-it-yourself removal tactic — it's not entirely effective or safe, especially if the mold is toxic.
Professional mold removal from Canada's Restoration Services guarantees that it'll be completely eradicated. Our team will address the direct source of the mold growth and eliminate it.
Improve air quality first and foremost by hiring Canada's Restoration Services for mold removal services in Montreal. Improved air quality has its benefits; it boosts employee morale, ensures customers' safety, and keeps everyone healthy.
Contact Canada's Restoration Services today. We offer mold removal services in Toronto and all major cities surrounding Toronto, Ottawa, Montreal, Edmonton, Calgary and Vancouver.