Is Mold a Problem in Your Furnace?
Posted in Mold Removal, on October 07, 2021
---
As the days get colder in Quebec -- and they do, very quickly -- turning the furnace on at home is an inherent response as the fall rolls around every year. To ensure optimal air quality, it's essential to keep your furnace well maintained. Skipping furnace maintenance could lead to mold infestations distributed throughout your property requiring professional mold removal in Montreal to eliminate it.
When it comes to mold removal, it's vital to get the help of experienced professionals. You never know what kind of mold is lurking in your furnace. It might even be toxic and require black mold removal. Although the air tends to be drier than the summer during the frigid winter months, keep an eye out for humidity and excess moisture coming from your furnace and air ducts.
Continue reading to learn about telltale signs of mold in your home and in your furnace.
Signs of Mold in Your Home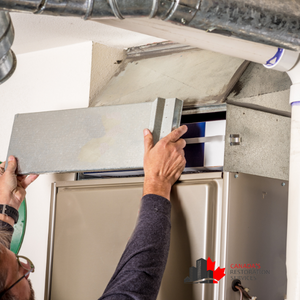 Mold spores exist in the air naturally, constantly circulating and seeking the ideal environment for it to flourish. If you're unsure about mold in your home, consider the levels of humidity indoors and assess your airflow. High moisture levels and low ventilation are one of the leading reasons homeowners end up requiring mold removal in Montreal.
Another telltale sign of mold is the smell. Mold has a pungent, musty odour that you can smell as soon as you enter a room. In most cases mold is detected by its scent before it is ever seen. Mold can be found in various spaces around your home that are out of sight, like tiles or hard-to-reach areas, like within walls or in your furnace. If you notice an odour that might be mold, contact Canada's Restoration Services for a free mold inspection. Early detection is important to containing an outbreak, especially when you'll need to schedule black mold removal.
Mold exposure can affect your health, ranging from a wide variety of sinus and respiratory issues. More often than not, the symptoms related to mold exposure are confused with seasonal allergies. If you happen to experience a runny nose, itchy eyes, and coughing, contact Canada's Restoration Services for a mold inspection and mold removal in Montreal.
Identifying Species of Mold
There are several types of mold, and they can all vary in colour and health risks. Toxic black mold isn't uncommon in homes and can lead to more severe respiratory symptoms compared to allergenic mold exposure, as well as rashes, chronic fatigue, and migraines. If you see black mold in your home, it's toxic, and you need to get black mold removal immediately.
Mold In Your Furnace
For the health of yourself and your home, it's essential to keep your air ducts well maintained and cleaned. For instance, your furnace could develop a condensation issue, or there could be a clogged line, a broken pipe, or even a leak in your roof -- all presenting the right conditions for mold growth in your furnace and ducts. Dirty ducts can be a breeding ground for mold infestations, since your air duct system is responsible for air circulation, trapped mold spores can spread from one room to another.
Stop mold in its tracks with professional mold inspection, testing, and removal services in Montreal and keep your home air quality clean and healthy.
Contact Canada's Restoration Services today to book your mold inspection in Montreal.