Is Asbestos a Risk when Spring Cleaning in Toronto?
Posted in Asbestos Removal, on March 02, 2022
---
With spring around the corner, it's normal for homeowners to start thinking about how they'll declutter their spaces or what their approach will be to addressing maintenance issues that have been plaguing their homes for quite some time now. If you're thinking about cleaning out spaces you haven't ventured into in years, it's recommended that you have asbestos testing in Toronto done first to avoid disturbing hidden home contaminants.
Spring cleaning can spell trouble for any friable asbestos-containing materials hidden throughout your home, especially those materials in your basement or attic. This spring, Canada's Restoration Services suggests consulting with one of our professionals to have asbestos removal in Toronto done. This blog will outline just how spring cleaning can disturb hidden asbestos and why only professionals should handle removing the mineral from your home.
Here's how you might encounter asbestos around your property during Spring Cleaning.
Building Materials & Asbestos Removal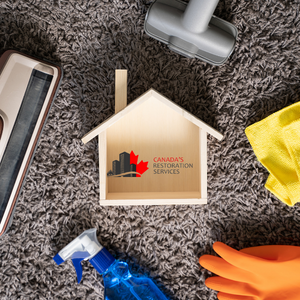 Since asbestos fibres were added to materials to increase fire resistance and heating properties, you're likely to find them in the basement or attic insulation, behind your walls or in your tiles. It's essential to keep this in the back of your mind when you're getting spring cleaning done on your property, especially if it's an older home. You may not be aware, but cleaning the following spaces or utilities can trigger an asbestos problem.
Asbestos was added to floor and ceiling tiles for durability, making them stronger and more resistant to deterioration. But tiles containing asbestos are most likely in a friable condition by now, meaning that they can easily deteriorate and send dangerous particles airborne. As a result, avoid dusting, vacuuming or sweeping your tiles, especially if they are cracked or damaged. Doing so may send dangerous particles into the air. What you should do is have asbestos testing in Toronto done on your tiles.
Insulation & Electrical Panels
Because one of asbestos's many desirable properties includes low conductivity, it has been used as an insulator especially within electrical panels and other areas that store wires. This prevents faulty wires from igniting. Pipes throughout your home or those hanging from your basement may also be covered in asbestos insulation, which was designed to keep pipes from freezing and bursting to prevent any structural damage or water damage emergencies.
Home Decor & Furnishings
If you're thinking about switching up your wallpaper decor, it's best to have asbestos removal in Toronto done first. Asbestos fibres were often mixed into the glue that held the wallpaper together, and removing the wallpaper increases the risk of sending asbestos dust into the air.
Roofing Materials
Since asbestos use was not limited to the interior of areas of a home, asbestos testing in Toronto should also be leveraged before cleaning the outside of your home. Roof tiles, sidings, shingles, and other materials may contain asbestos in multiple forms. Harsh conditions like winter ice and snow, or summer thunderstorms can not only damage your roof, but also accelerate the deterioration and unearthing of such asbestos-containing materials.
The Safest Approach To Spring Cleaning
Wearing PPE – such as eye protection, gloves and a respirator – during the spring cleaning process is always a good measure to take. But we recommended taking the extra step of having professional asbestos testing in Toronto done on your property before any cleaning occurs. If asbestos is detected during testing and inspection, proceed with professional asbestos removal in Toronto from the trusted technicians at Canada's Restoration Services.
Planning on spring cleaning this year? Start with an asbestos inspection.