Is 100 Percent Mold Removal in Edmonton Possible?
Posted in Mold Removal, on March 16, 2022
---
If you encounter a mold infestation in your home, it's not only unsightly and frustrating, but it's also unsafe. No matter how many times you try mold removal in Edmonton on your own, those pesky mold spores never seem to leave your property, leaving many homeowners distraught and convinced that complete mold removal is even possible.
If you notice the pungent odour of mold, don't ignore it, don't try to remove it yourself, and don't give up on remediation. Instead, contact Canada's Restoration Services for mold testing in Edmonton, where our certified professionals will identify all sources of mold outbreaks in your property and eliminate them.
Read on to see how Canada's Restoration Services can help you get comprehensive mold removal in Edmonton.
Why is Comprehensive Mold Removal Necessary?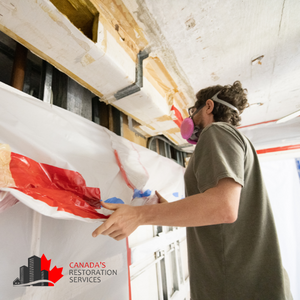 Mold is attracted to organic matter and water which it uses as a source of nutrition to feed off of and expand. As a result, outbreaks frequently occur in organic building materials such as wood and drywall causing them to rot and break down, leading to structural damage overtime.
In addition to contaminating building materials, mold left uninterrupted or untreated with professional equipment often results in long-term illness to occupants.
The health effects of mold exposure are generally similar to seasonal allergies but will progressively get worse. If you're unsure if mold is in your property or not, keep the following symptoms in mind: skin irritation, itchy eyes, congestion, sinus issues, shortness of breath, migraines, and excessive coughing.
To mitigate these harmful effects of an outbreak it's important to schedule professional mold removal in Edmonton that is comprehensive. Canada's Restoration Services offers tried and true mold remediation services across Edmonton. You can schedule a mold inspection to first identify all the contaminated areas of your property.
Is Complete Mold Remediation Possible?
Mold spores are natural to our environment as a result they are virtually everywhere outside, constantly cycling in and out through windows and open doors until they encounter a room with the conditions that allow them to flourish. While professional mold removal will eradicate mold infestations from your property, there is always the risk of a repeat outbreak, especially if your property consistently presents ideal conditions for mold growth.
The key to maintaining the results of mold removal in Edmonton is to be proactive and make your property unappealing to mold spores by reducing humidity, maintaining consistent airflow, enabling natural light, and restoring any water damage.
Water Damage Restoration
If mold frequents your property, look for signs of water damage, which is a common catalyst for outbreaks of mold. Discolouration on walls or ceilings, unusual puddles or pooling inside, a damp smell, high humidity, or paint flaking on walls are all telltale signs of water damage. If your property has previously experienced water damage and it wasn't restored by a professional restoration service, the likelihood of mold infiltrating your property is high.
DIY Mold Removal Edmonton
The only way to guarantee that mold is eradicated from your property is with a certified and experienced mold removal company. While some do-it-yourself tactics, like using household bleach products and vinegar solutions, can garner some results, they likely won't last long. In most cases, household mold removal solutions can actually make the infestation in porous materials like drywall and wood even worse.
Mold Remediation Services in Edmonton
With professional mold inspections in Edmonton, we will identify the sources of mold, test it, and eliminate it. Our team implements a comprehensive action plan to remediate all affected areas. Following removal, our trusted professionals will guide you on preventing mold growth from coming back in the future.