How Toronto Experts Remove Black Mold
Posted in Mold Removal, on March 10, 2021
---
A notorious indoor pollutant and an allergen, black mold is a common resident of moist, dark environments. The term "black mold" encompasses several fungi species that produce dark green or black spores and appear as dark stains on walls and other materials. The most common one is Stachybotrys chartarum, also known as toxic mold. This fungus causes headaches to many homeowners in humid climates like Toronto, both figuratively and literally. Unsightly stains and unpleasant smells are only the tip of the iceberg – black mold is also a dangerous allergen and requires professional mold removal services from a Toronto certified expert company.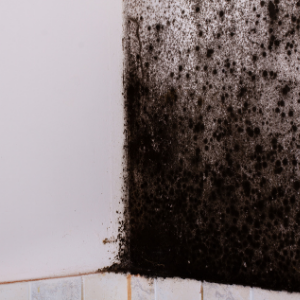 The presence of black mold shouldn't be ignored, especially if children and the elderly often reside in the contaminated area. Acting promptly is the best way to go, so take action at first signs of this notorious mold. However, keep in mind that having a proper approach is also very important. If not handled properly, black mold can quickly spread to other areas and severely contaminate the entire home. The best option is to leave everything to the experts and call a professional black mold removal company. If you are still thinking of having DIY mold removal, here are some things you should consider beforehand.
The Safety Concerns to be Aware Of
Black mold can negatively affect health both with acute and long-term exposure. Coughing, sneezing, respiratory irritation and rashes can appear even after minimal exposure, so handling and removing contaminated materials requires adequate safety equipment. Another critical thing to consider is what is the optimal and safest way to handle hazardous materials. Even minor disturbances can make mold spores airborne, so the spores will likely spread elsewhere if the area is not adequately isolated. Let's discuss these two aspects in more detail.
The Personal Protective Equipment You Need
Considering how harmful black mold can be, wearing safety equipment during the removal is an absolute must. Safety should be the number one priority when handling any hazardous material. Mold spores are microscopic and can stick to hair and regular clothing, so mold removal requires unique clothing and adequate equipment. Here is an essential list of the things you need to prevent exposure to black mold:
Disposable gloves
Disposable hair covers
Safety goggles
Respiratory mask
Disposable overalls
Disposable shoe covers
The Supplies you Need
Once you have the full protective gear, the next thing you'll need are tools for the removal. These include:
A natural or a chemical solution for mold removal
Spray bottle
Nylon bristle brush
Plastic sheets
Duct tape
Paper towels
Old rags
Plastic bags
There are many commercially available mold removal chemicals, but some homeowners instead opt for natural solutions.
Some of the most commonly used ones include:
Baking soda and water
Vinegar
Borax
Hydrogen peroxide
Tea tree essential oil
Citrus extracts
The Steps
Let's see how black mold is removed step-by-step:
Have all tools and equipment prepared
Locate the source of mold growth – Inspect your home thoroughly for dark spots and musty smells, especially in humid areas like the basement and bathroom.
Isolate the area with plastic sheets and duct tape
Prepare a mold removal solution and carefully spray the area – Apply the solution generously to cover all growth and prevent the spores from becoming airborne. Do not spray aggressively or use a high-pressure sprayer to avoid the spread of spores. Leave the solution to sit for 5-10 minutes before you move on to the next step.
Scrub the area with careful, slow, but firm strokes using the nylon brush – It is crucial to minimize the chance of disturbing mold colonies during removal because some portions might still be dry.
Use paper towels and old rags to collect the dark goo and wipe the area clean. Do not rinse with water because you might remove the fungicidal solution and damage the material. This creates favourable conditions for the remaining spores to easily reestablish.
Repeat steps 3 and 4 if the mold is deeply established and difficult to remove – It is okay if there is a light stain after the work is done, but make sure all traces of mold mycelium are removed.
Spray the scrubbed area with the mold-removal solution once again – This should prevent the mold from coming back.
Put the used plastic covers, disposable overalls, hair cover, gloves, and paper towels in a bag and seal it tightly before disposal. Wash the used rags and the brush thoroughly with hot water.
Once the entire process is finished, we can sit and lay back… Or not? Well, molds are very persistent creatures, so their return is very likely. The battle with these microscopic fungi is always ongoing, but proper removal and adequate preventive measures can make things significantly easier. An experienced, certified inspector can do wonders because aside from ensuring that the removal was successful, he or she can also give valuable advice about prevention, tailored specifically for your home.
If you are looking for a trusted mold removal company in Toronto, reach out to Canada Restoration Services' friendly staff. Our experienced inspectors are equipped with tools and knowledge to perform safe and efficient black mold removal and are always ready to help you and your loved ones avoid mold exposure for good. Instead of running the long mile and risking the spread of mold in your home, call CRS today and schedule your mold removal.