How to Safely Approach Bathroom Mold Removal in Toronto
Posted in Mold Removal, on October 20, 2022
---
Mold thrives in small, damp spaces, making bathrooms an absolute haven for pesky spores to settle and grow. If you spot mold in your bathroom and don't conduct mold removal in Toronto on your own, it may result in health problems and structural damage to your home. However, it's critical to be cautious when approaching mold removal. Do-it-yourself techniques don't produce long-lasting results, and you may be putting yourself in harm's way. Rather than take mold removal into your own, contact a professional for a mold inspection in Toronto to identify all sources of growth and implement a safe removal plan.
Keep reading to know more about how to safely approach bathroom mold removal in Toronto.
Signs of Bathroom Mold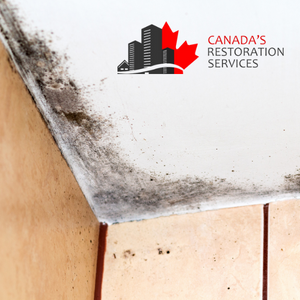 When it comes to mold outbreaks in your bathroom, keep your eyes and nose on high alert. You'll most likely be able to identify the musty, distinct odour of mold before you see the dark spots scattered in corners or between shower tiles. Mold will likely grow in small nooks and crevices of your bathroom, so it's common to find the growth between tiles, in ceiling corners, or near windows. Often property owners will notice dark grey or black staining around the room, indicating you need black mold removal. Your bathroom may be prone to mold infestations if it is small and lacking air circulation. To prevent the need for mold removal in Toronto keep ventilation consistent to maintain airflow and dry out the space or contact Canada's Restoration Services with a free visible mold inspection.
Dangers of Mold Exposure and the Importance of PPE
If mold is present in your bathroom, try to limit your exposure to it. If you have to go into the affected area, it's best to wear personal protective equipment (PPE), like masks, to limit exposure and inhalation of mold spores. Mold exposure can lead to many health issues, especially if the species of mold is toxic. If you do become exposed to a toxic species of mold, you may be at risk of skin irritation, fatigue, migraines, and several respiratory issues. Don't risk your health, contact Canada's Restoration Services for a mold inspection in Toronto.
Mold Removal Sprays
Anti-fungal sprays are a popular at-home method to eradicate mold from their bathroom. However, while these sprays eliminate surface mold growth, they're only a short-term solution and fail to address the root cause of the mold infestation in the bathroom. Mold will likely grow back, sometimes exponentially, after you wipe down the surface with an anti-fungal spray.
Mold Inspections
Mold inspections are an essential part of the mold remediation process. With our advanced and comprehensive mold inspections, we'll identify all sources of growth, conduct air testing, discover the cause of the outbreak, and the species of mold festering in your bathroom.
Mold Removal Services
Once the inspection is complete, our trusted and certified professionals will have a plan of action for mold removal to ensure that mold is eradicated from your property. The safest and most effective way to combat mold in your bathroom is by contacting Canada's Restoration Services for bathroom mold removal services.