How To Remove Mold From Popcorn Ceilings
Posted in Mold Removal, on January 11, 2023
---
Given the right conditions, such as moisture from leaks, or stuffy air from constant heating, mold has the potential to appear essentially anywhere in your home. Mold spores will settle and fester underneath carpets, behind drywall, or even on your popcorn ceilings. When popcorn or stucco ceilings have mold, don't wait to respond. Instead, get mold removal in Mississauga with Canada's Restoration Services. The sooner remediation is completed, the better you'll be able to stop the spread, protect your property, and reduce mold removal costs.
Here's what you need to know regarding popcorn ceiling mold removal in Mississauga.
What's Causing Mold in Your Ceiling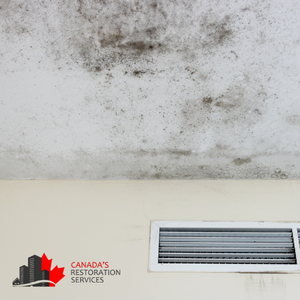 Water damage from burst or leaking pipes are likely the primary cause of mold infestations in your popcorn ceiling. If there's a leaking pipe in your upstairs bathroom, or a leak in your attic, moisture will settle in your ceiling and mold will grow. Aside from humidity, popcorn ceilings hold dust, making the environment even more appealing to mold spores. The combination of moisture and dust will make mold infestations in your popcorn ceilings inevitable.
Signs of Mold in Popcorn Ceilings
There are a few key indicators to keep in mind when it comes to identifying mold infestations. You'll want to keep your eyes and nose on alert regarding mold, especially in your popcorn ceilings. Since popcorn ceilings are meant to hide imperfections, it will be challenging to see any visible mold outbreaks. However, if your home has an earthy, pungent odour, check out your popcorn ceilings — you may find mold.
How to Remove Mold
When you discover mold in your popcorn ceilings, it's essential to act fast and conduct mold removal in Mississauga. By eradicating mold early, you'll minimize mold removal costs and any potential health effects. The team at Canada's Restoration Services will thoroughly inspect your property, test the species of mold present to determine if it's toxic, and effectively eliminate it.
Dangers of Mold Infestations
If mold is left to fester throughout your property, you will experience several health and structural issues throughout your home. Mold exposure, short-term or long-term, may result in respiratory problems, such as shortness of breath, congestion, wheezing, and coughing. For those with a higher sensitivity to mold exposure, it may cause migraines, fatigue, brain fog, and lethargy. In terms of the structure of your home, since mold eats away at organic materials, like wood or insulation, it may eventually lead to structural damage and wood rot.
Where Else You May Have Mold
Chances are, if mold lurks in your popcorn ceilings, it's in other parts of your home, such as around your windows, underneath your floorboards, within the drywall, and underneath kitchen appliances. Anywhere in your home that may harbour moisture and has low ventilation will be vulnerable to mold infestations.
Professional Mold Removal in Mississauga
The moment you see the distinct pattern of mold, whether in your popcorn ceilings or anywhere else, or catch a whiff of it, contact our team. We'll arrive quickly at the scene for comprehensive mold testing and removal.