How to Prevent Asbestos Exposure
Posted in Asbestos Removal, on September 18, 2023
---
Most people are aware that asbestos is a hazard, but beyond that many people find the mineral to be shrouded in mystery, from what asbestos really is, where to find it, and how it causes harm. In addition to enabling safe asbestos removal in Toronto, service providers like Canada's Restoration Services are devoted to educating Canadians about the risks of asbestos and empowering them with the information needed to prevent exposure. As one of the most trusted restoration companies in Toronto, our team can help you manage encounters with asbestos, protecting your health and the well-being of those around you by preventing asebstos exposure.
Learn how you can prevent exposure to asbestos with these tips from Canada's Restoration Services.
Book Asbestos Inspections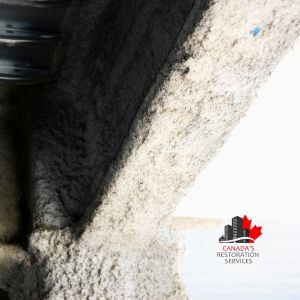 The best way to prevent accidental asbestos exposure is with inspections from trained restoration companies in Toronto. By identifying where the mineral is around your property, you can enlist the support of experts to execute asbestos removal in Toronto before there is an opportunity to disrupt the mineral and become exposed to its fibers. Preventative asbestos abatement is highly recommended by professionals in the field, as it can save lives. Because asbestos was used in many of the same building materials over the years, such as loose-fill attic insulation, drywall, vinyl flooring, pipe wrap, and a number of other construction components, inspection teams can quickly identify instances of the mineral and make a plan to remove it.
Keep Tools Away from Asbestos
Asbestos is a highly sensitive material that found its way into modern buildings after it was mined and used in the manufacturing of construction materials. There were many benefits to using asbestos in the mid to late 20th century, such as its abundance, durability, and fire resistance, but today most instances of asbestos are deteriorating due to time. When asbestos breaks down its fibers become more likely to go airborne from touch. If you're planning a renovation, maintenance, or any level of construction, it's imperative that you keep tools away from any potentially asbestos-containing materials before you conduct asbestos removal in Toronto. Actions as simply as touching, sawing, or cutting can send fibers into the air where they can be easily inhaled by anyone nearby. Airborne asbestos fibers can also latch onto clothing, hair and other surfaces nearby and cause issues later on.
Don't DIY Asbestos Removal in Toronto
Do it yourself asbestos removal is not recommended because of how easy it is to send the mineral into an airborne state. Instead, local regulations mandate that asbestos removal in Toronto and elsewhere in Ontario be managed by experienced, certified, and approved restoration companies like Canada's Restoration Services. If you expect to be near the mineral, proper protective gear like gloves, respirators, and disposable jumpsuits are essential.
Prevent Exposure with Expert Asbestos Removal
The safest way to handle any encounter with asbestos is by reaching out to an experienced restoration company in Toronto. At Canada's Restoration Services, our team of asbestos specialists used industry best practices and advanced equipment to protect you and your property from the fall out of asbestos. For all your restoration needs from asbestos to water damage and mold removal, trust Canada's leaders.