How to Plan an Asbestos-Safe Kitchen Renovation
Posted in Asbestos Removal, on August 23, 2023
---
Before remodeling your kitchen, it's a good idea to build-out a safety plan. Many properties in the Greater Toronto Area are contaminated with hazardous materials that can come to the surface during construction. If you know that you need asbestos abatement ahead of your construction project, you can ensure that your renovation goes smoothly and safely. For effective and comprehensive asbestos removal in Toronto, contact the Canada's Restoration Services team to book an asbestos inspection in Toronto. We offer professional asbestos removal in Toronto to help homeowners assess and mitigate the risks of asbestos contamination before, during, and after renovations. Asbestos is prevalent in buildings across Toronto and the GTA, so understanding your risk before you begin work is critical.
Know Where Asbestos Might Be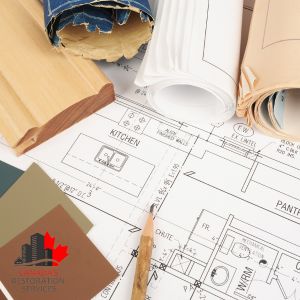 Widely used in home building for decades before it was banned, asbestos was hailed as the "miracle mineral" for its insulating and fire retardant capabilities. But after clear and definite links to asbestosis, a type of fatal lung disease, became apparent, products containing asbestos were phased out. Unfortunately, many kitchens across Toronto were built before asbestos was banned, and your renovation may stir up the harmful fibres. Canada's Restoration Services looks for asbestos in:
Kitchen tiles, especially vinyl and linoleum made before 1990
Hot water piping, where asbestos was used to insulate
Glues and adhesives
Ductwork tape and insulation may include asbestos
Ceilings, such as popcorn or drop ceilings
Older drywall and gypsum boards
Understand the Risks of Asbestos
Asbestos may be a mineral, but its composition is more like a textile fibre, and these small strands put you at risk. Once airborne asbestos particles are breathed into the lungs, the body can no longer expel them. Over the years, irritation and inflammation cause large amounts of scar tissue to build up, resulting in asbestosis, a chronic lung condition with no cure.
It's safe to keep asbestos products in your home as long as they are not disturbed, and no chipping, cracking, or flaking occurs. This is where asbestos abatement can help to seal and repair aging items that otherwise need no repair or upgrade. However, a complete kitchen reno or even minor repairs often create a lot of dust and debris, which is when we recommend you take proper precautions.
Guide to Safe Kitchen Asbestos Removal
Book a thorough asbestos inspection in Toronto before renovations begin.
Ensure proper containment of the work site if your home is affected.
Require respiratory protection for anyone entering the contained area.
Safe elimination of asbestos-containing materials and disposal
Careful cleanup and restoration of affected areas
Expert Professional Asbestos Abatement and Inspection
Asbestos removal can be incredibly dangerous because the fibres are very lightweight and can be easily disturbed. Once airborne, asbestos can linger in the environment for some time, which is why we often recommend professional asbestos testing through all stages of renovation.
If you plan to upgrade your kitchen, Canada's Restoration Services is ready to help ensure work can proceed safely for everyone involved. We're professionally accredited and follow the latest guidelines to ensure our asbestos abatement is as thorough and safe as possible. Call or email our team today to learn more about asbestos or inquire about asbestos inspection in the Greater Toronto Area, Ottawa, Edmonton, and other Canadian cities.