How to Pick the Right Mold Removal Services in Ottawa
Posted in Mold Removal, on March 18, 2022
---
Realizing that your property is victim to a full-blown mold outbreak can be overwhelming and a little bit disorienting. Contacting a professional mold remediation company is the best response. Technicians from Canada's Restoration Services will guide you from inspections and mold testing in Ottawa to mold removal and cleanup. With professional insight, and a fast mold removal in Ottawa, you can get outbreaks under control with minimal stress and damage.
Our team of certified and trusted mould remediation specialists will ensure that all mold infested areas and materials are properly identified and restored with strategic mold removal in Ottawa. While you may not be sure where to start or what to do when you first encounter mold infestations, our team is here to help.
Fast Response to Water Damage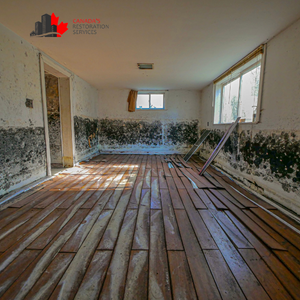 The key to a good and trustworthy mold removal team in Ottawa is one that also offers water damage remediation services. Water damage is more often than not a catalyst for mold infestations, so it's imperative to deal with it quickly. Canada's Restoration Services responds in 45 minutes or less for water damage restoration, mitigating the opportunity for secondary water damage and the need for extensive mold removal in Ottawa.
Comprehensive Mold Inspections
While you may think that the first telltale sign of a mold infestation involves visual signs, like discolouration, the first thing you may notice is the smell. If you're greeted with the unfortunate odour of mold in your property, an inspection is imperative. Mold inspections followed by mold testing in Ottawa will effectively determine every area in your property affected by mold. At Canada's Restoration we offer free mold inspections to help you get off on the right foot with mold removal in Ottawa.
Mold infestations are often unexpected and certainly unplanned which can make mold removal in Ottawa a financial burden but a health necessity. We also work directly with insurance companies to streamline the mold removal process, making it more manageable for property owners.
Advanced Technology & Certified Mold Removal Technicians
When you encounter a mold infestation, it's tempting to conduct mold removal in Ottawa on your own. However, independent, DIY attempts of mold removal are not practical or safe. Household mold removal methods, like bleach solutions or vinegar, may remove surface-level mold growth, but it still leaves mold spores lingering beneath the surface of porous materials, causing mold to quickly grow back.
The most extensive infestation cannot be handled by household products, the team at Canada's Restoration Services uses advanced techniques and equipment like high tech air scrubbers to ensure the mold removal is successful.
Don't DIY: Get Professional Mold Removal
Once the outbreak's scope is known from an inspection, our certified technicians will implement a thorough action plan to eradicate mold from your property. Following removal, we won't leave until we conduct air quality testing and get clearance that your property's air quality is safe and that mold remediation has been a success.
Benefits of Professional Mold Remediation Services
The only way to ensure that the health hazards associated with don't return is to eradicate mold from your property, and the best way to do that is with a trusted and certified mold removal company. At Canada's Restoration Services, we will ensure that all areas with mold in your property have been restored to their normal — and safe — condition. Once we eliminate all sources of mold growth, our team will then advise you on how to reduce the likelihood of it returning in the future.