How to Manage Mold Removal for Porous Surfaces
Posted in Mold Removal, on October 11, 2021
---
Mold spores typically target locations that fit specific criteria to settle in, but as infestations go unchecked spores fester and flourish into outbreaks throughout a property. From bathroom tiles to carpets, mold can be encountered in a multitude of ways. The first instinct upon discovering mold in your home, might be to try and eliminate it yourself but in most cases of medium to severe infestations, a DIY tactic will render itself ineffective. You never know what kind of mold you may be dealing with, and if it's toxic black mold, it has an added set of risks to your health and home. The most effective and safe approach to mold removal in Vancouver is through professional service, especially in the case of black mold removal.
Eliminating mold is typically a much smoother process when it comes to hard surfaces. In some cases, disinfectants can be effective for mold removal in Vancouver, if outbreaks are mild and caught early. However, when mold reaches soft, porous surfaces, the removal process becomes difficult, and the need for professional mold testing and removal becomes inevitable.
Continue reading below about mold in your home and on porous surfaces.
How to Identify Mold Species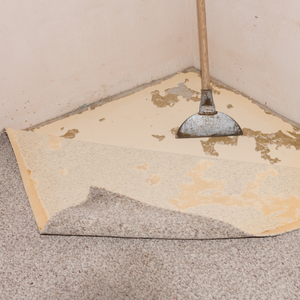 The first thing that must be done when handling mold is testing to determine the species of mold, its toxicity, and its behaviours. Different types of mold have different health effects and respond to indoor conditions differently. All types of mold vary in colour and texture, so if you're unsure about the type, be proactive and contact Canada's Restoration Services for a mold inspection and testing near Vancouver where our team can effectively determine the species of mold and its level of immediate threat.
Our team can find the mold and its direct source of growth and conduct complete and comprehensive mold remediation in Vancouver. If toxic mold is detected, technicians will respond appropriately to ensure safe and total black mold removal as soon as possible. Symptoms of black mold exposure can include shortness of breath, wheezing, and sinus issues; long-term exposure can lead to severe effects, including memory loss, migraines, and fatigue. If you notice these signs leave the property and call Canada's Restoration for mold inspection and removal immediately.
Types of Porous Material Susceptible to Mold
Porous materials in your home susceptible to mold growth go beyond just your couch and rugs; it can include drywall, mattresses, bathmats, and ceiling tiles. It's nearly impossible to entirely remove mold from porous materials, and unfortunately, some items will need to be replaced. It might look like the mold is gone if you've cleaned it, but the mold spores root themselves deep into the material, allowing them to quickly grow back later on.
Porous materials often promote the right conditions for mold growth, especially in attics. Underneath rugs, mattresses, drywall, and insulation are all dark, damp, and have little to no access to ventilation. The best way to determine if mold is gone is with an inspection and testing. When you work with Canada's Restoration Services, we will continually assess the scope of the mold infestation to ensure that when we are done, your property is mold-free.
If you're looking for mold remediation near Vancouver, Canada's Restoration Services is here to help.
Call us today to schedule a mold inspection right away!