How to Manage Humid Homes in the Summer
Posted in Flood & Water Damage, on June 23, 2023
---
Summer has officially arrived, and with the warm weather and long days comes high humidity levels. While we all love outdoor activities during the hot summer months, sometimes, the humidity in the air can make staying outside less than enjoyable. To make matters even worse, humidity can occasionally creep into our homes, which may lead to issues like poor air quality and mold infestations. If you notice mold, contact Canada's Restoration Services for mold removal in Mississauga. In the instance that mold growth was caused by water damage or infiltration, we'll also complete effective water damage restoration.
Keep reading to learn how to manage the effects of humid homes in the summer.
Fix Leaks or Water Damage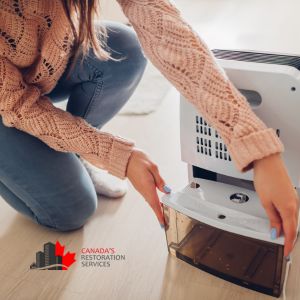 Leaks and water damage could be the biggest culprit of excessive humidity in your home this summer. Unfortunately, water damage can happen in many different ways, such as a leaking pipe, a burst pipe, a roof leak, foundation cracks, or an appliance leak. Sometimes, water occurs slowly over a long period, making it hard to know when it started and where the source is. If you notice that your home has a musty smell and a damp feel, you've likely fallen victim to water infiltration. To repair your property, contact Canada's Restoration Services for water damage restoration. Without professional water damage restoration, mold may infiltrate your property, and you'll require mold removal in your Mississauga home.
Improve Ventilation
Ventilation is key when managing humidity levels in your home. Having fans constantly circulating will push stale, humid air out of your home and bring in a fresh breeze. Ensuring adequate ventilation through an open window, standing fan, or exhaust fan is especially important in closed-off spaces like basements, bathrooms, and bedrooms. Proper airflow and ventilation will also keep mold growth at bay — it'll force out all lingering mold spores in the air.
Invest in a Dehumidifier
Depending on where you live, your home may be constantly humid in the warmer months — even with adequate ventilation. A dehumidifier is an excellent way to keep humidity levels low. A dehumidifier is often placed in parts of the home with the most moisture, like the basement. With a dehumidifier in your home, you'll be more comfortable, and the risk of mold infestations is low.
Upgrade Your Insulation
Older homes may struggle to manage humidity due to aging insulation. Upgrading your insulation could work wonders and keep moisture levels at an all-time low. New and effective insulation will ensure moisture stays out of your home, and the inside air stays dry.
Weather Stripping and Caulking
If you notice condensation around your windows or doors, you should consider weatherstripping. By doing this, you'll minimize the amount of moisture that seeps into your property through airways. Caulking is similar, but rather than sealing windows or doors, caulking seals smaller high-moisture surfaces, like faucets, sinks, and tubs.
Humidity Monitors
A humidity monitor is a fantastic tool to gauge humidity levels in your property. Typically, humidity monitors display the temperature and moisture levels in your home so you have an idea of how humid your home truly is. Ideally, you want moisture levels to be around 30%.
Water Damage & Mold Restoration with Canada's Restoration Services
If you need help managing humidity in your home or fixing a leak, or completing mold removal in Toronto's nearby neighbourhoods, contact Canada's Restoration Services for water damage restoration in Ottawa, Edmonton, Montreal, and Toronto with a leading restoration company near you.