How to Manage Airflow When Dealing with Asbestos
Posted in Asbestos Removal, on February 07, 2022
---
Asbestos-containing materials used in specific applications, such as an HVAC system, are more exposed to airflow or movement and can easily break down over time. As a result, hazardous particles are more likely to be released into the air, increasing the risk of breathing in the mineral and developing severe long-term health conditions.
Friable asbestos – which refers to any asbestos-containing material that can easily break down and send hazardous particles airborne – requires immediate asbestos abatement in Toronto. Our careful approach to asbestos testing in Toronto at Canada's Restoration Services will not only identify any friable asbestos-containing products on your property, but the procedure allows our experts to measure the scope of the removal process.
Why Was Asbestos Used In HVAC Systems?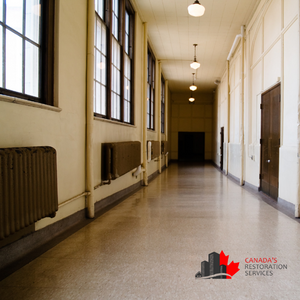 Before the hazards associated with asbestos exposure became common knowledge across the globe, HVAC companies would use the fibres as insulation or as liners for pipes operating within cooling and heating applications, thanks to the mineral's durability, heat resistance, and affordability.
Now, as people attempt to clear their properties of asbestos, professional asbestos testing in Toronto continues to detect the mineral in significant concentrations in, on, or around such systems in various forms. Asbestos-containing cement millboard acted as a partial heat shield for ceiling or wall surfaces. Asbestos-containing insulating material would hang or be directly applied onto pipes. White asbestos was used to create a paste material that was designed to insulate specific pipe parts. And then there's white "paper" containing asbestos that would wrap around the outside of some heating ducts.
Many, if not all, of the materials mentioned above are friable and can be easily disturbed. Inhaling airborne asbestos fibres can result in developing severe conditions such as malignant mesothelioma cancer. Please avoid addressing or even investigating such materials on your own, as this can jeopardize the health and safety of you and the other occupants of your property. Instead, leave it to experts in asbestos abatement in Toronto to remove the mineral from your property.
Stopping Airflow During HVAC Asbestos Abatement in Toronto
If our asbestos testing in Toronto procedure at Canada's Restoration Services confirms the presence of asbestos, we move towards a full removal of the mineral on your property. The first step we take during the asbestos abatement in Toronto process is turning off your HVAC system. This is done to prevent hazardous asbestos particles from circulating throughout the room and your property during the abatement process.
In addition to setting up full containment gear and equipment, air scrubbing machines with HEPA filtration systems are constantly in operation during the removal process. These machines are designed to clean the air and isolate the space, preventing asbestos fibres from spreading. But before the machines come into use, we close any air ducts or vents and seal any windows where air can circulate. The bottom of doors are also taped to reduce any draft. Less air leaking into the room allows for the air pressure to be more efficiently maintained.
For all your asbestos detection and removal needs, trust one of the top asbestos abatement contractors in Toronto. Canada's Restoration Services' technicians are IICRC certified and insured for careful and reliable asbestos abatement in Toronto.
Schedule an asbestos inspection in Toronto and call Canada's Restoration Services to determine your next steps.