How to Know if You
Posted in Asbestos Removal, on July 06, 2022
---
When restoration companies in Toronto conduct asbestos testing, they'll look for one of two main categories of asbestos - serpentine or amphibole. During asbestos testing in Toronto, the mineral is divided into these two groups based on their physical and chemical properties. It's important for professionals to easily identify one type of asbestos from another due to their potential risk. While amphibole asbestos was less frequently used, it is considered more harmful. Serpentine asbestos, on the other hand, is the most commonly used type of asbestos in construction and consumer products, but it requires more exposure to be as harmful as amphibole asbestos.
Despite its differences from amphibole, serpentine asbestos is still very harmful when inhaled and should be treated with caution. If you suspect your property is contaminated with serpentine or chrysotile, call Canada's Restoration Services for asbestos testing in Toronto.
What Does Serpentine Asbestos Look Like?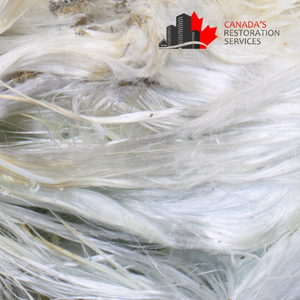 Asbestos fibres are not easily identified by the naked eye. The main kind of serpentine asbestos is chrysotile or "White asbestos." As the name "serpentine" suggests, the fibres of the mineral are long, curly, and flexible. Typically it appears white. Generally, all asbestos fibres are odourless.
The average person should not ever come close enough to the mineral to try to assess its properties without the support of a licenced restoration company in Toronto.
Where Does Asbestos Testing Reveal Chrysotile?
Since chrysotile is the type of mineral most frequently uncovered in Canada and asbestos testing in Toronto, it can appear in many applications in residential and commercial properties around the city.
Historically, chrysotile asbestos was used in a variety of construction materials including, but not limited to:
Attic insulation
Duct & pipe wraps
Cement
Roof shingles and sidings
Floor and ceiling tiles
Drywall & Stucco
When Might You Encounter Serpentine Asbestos?
If the mineral is hidden around your home or facility, renovations, maintenance, or even large-scale cleaning could reveal and expose the fibres. Asbestos fibres are the most hazardous when they are airborne, where they can be easily inhaled or ingested by anyone in the vicinity. So, sawing, cutting, wetting, touching, or moving asbestos or asbestos-containing materials is strongly advised against.
To prevent exposure and any health complications associated with exposure, it's recommended that prior to scheduling any work on your property, you contact a restoration company in Toronto specializing in asbestos removal services for an inspection and testing. Canada's Restoration Services technicians will quickly help you identify the exposure risk and safely abate it.
Asbestos Testing & Removal Services in Toronto
Asbestos removal services in Toronto are the best way to protect you and your loved ones from serpentine asbestos. Our trained and skilled technicians conduct thorough property inspections, carefully pinpointing any area that could contain asbestos. At Canada's Restoration Services, we use 3rd party asbestos testing to ensure that there is no conflict of interest and results are accurate. Testing will tell us what type of asbestos we're dealing with - serpentine or amphibole, and the contamination percentage which we use determines the most effective abatement plan.