How to Know if There
Posted in Asbestos Removal, on September 26, 2022
---
When you live in a modern home or new build, concern about asbestos around the property is usually minimal. When moving into homes built in the late 20th century, especially between 1970 and 2000, asbestos testing is essential. Despite many renovations and improvements to the city's older properties, the mineral may still be present and require asbestos removal in Toronto. Some of the most common areas where asbestos is uncovered during construction and asbestos inspections in Toronto include the attic, walls, roof, and HVAC systems. But some lesser known materials can consist of asbestos, one being floor tiles.
If your home was built in the second half of the 20th century or has a history of asbestos, the team Canada's Restoration Services can help you free your property of the hazardous mineral.
You need to know here about asbestos and your residential floor tiles.
Identifying Asbestos Floor Tiles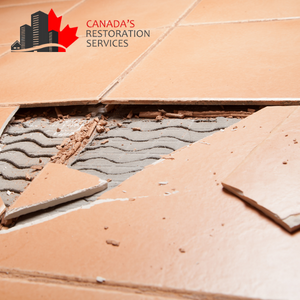 Not all residential floor tiles have asbestos. The mineral was used in the construction of vinyl flooring along with other vinyl products. Usually, asbestos vinyl tiles looked like any other typical tile, either 9 x 9 inches or 18 x 18 inches. Tiles came in various shapes, sizes, colours, and patterns, which made them difficult to detect without asbestos testing. An asphalt solution was often used in the production and installation of asbestos vinyl flooring. So, over time the oil leaking from the asphalt would cause discolouration to the surface of the tiles causing them to appear darker or even stained.
It's critical that you leave the identification of the floor tiles to a certified asbestos removal service. Canada's Restoration Services creates a safe environment for asbestos testing and removal.
About Vinyl Floor Tiles
Asbestos-containing vinyl flooring started being produced in the 1920s and was installed heavily between 1950 and 1980. Asbestos fibres were used in the manufacturing of vinyl flooring because of their strength and resilience. Asbestos flooring was quickly and well-equipped to insulate and prevent fires from spreading while also minimizing day-to-day wear and tear.
The Dangers of Asbestos Flooring
While they are said to have a low toxicity level, the hazardous minerals embedded within them still pose a threat. As time progresses, the mineral degrades, eventually becoming friable. Friable asbestos, where the fibres are not well encased, is more easily disrupted and released into the environment, where it can be inhaled by anyone in the area. To prevent asbestos exposure, it's vital to conduct an inspection and schedule asbestos removal in Toronto as soon as possible. With advanced technology and industry guidelines for asbestos abatement services for safe and effective removal.
Upgrading Your Flooring
If you have 20th-century flooring, you may want to renovate it, but if there's a chance that it contains asbestos fibres, it's best to wait on construction until you get a professional asbestos inspection. Hammering, cutting, or lifting tiles can quickly release fibres into the air, where they can be inhaled and enter the respiratory system.
Asbestos Removal Toronto
Asbestos can contaminate your indoor air. Spare your property and its people from asbestos exposure with reliable asbestos removal in Toronto from the IICRC Canada's Restoration Services team.