How to Know if Mold is Affecting Your Children?
Posted in Mold Removal, on July 11, 2022
---
Your children are the centre of your life, and you want to do everything to ensure that they're safe and healthy. When mold is present in your home, it can harm everyone, especially your kids. Restoration companies in Toronto highly recommend getting your home inspected for mold and removing it professionally if needed. Since mold is common, many homeowners don't realize the seriousness of exposure. In reality extended exposure can be quite detrimental to your health and your kids, especially with toxic black mold. Protect your children from the repercussions of mold inhalation with mold removal in Toronto.
Here are 3 ways mold outbreaks at home can be affecting you and your family.
Allergy-like Symptoms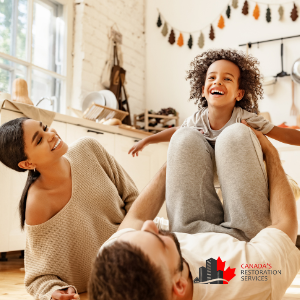 Mold is known to cause allergy-like symptoms that often go unnoticed as many assume it's anything but that. Since children have weaker immune systems, mold exposure can be very harmful as they are vulnerable to mold-related illnesses. Symptoms of a mold allergy may include an itchy or stuffy nose, frequent sneezing, and watery or itchy eyes. It is important to monitor these symptoms and research restoration companies in Toronto. Canada's Restoration Services offers mold removal services that you can rely on. Undoubtedly, we're one of the most trustworthy mold removal experts in Toronto.
Respiratory Issues
Studies have proven an adjacent link between the development of respiratory illnesses in children and mold exposure. Every child will react differently to mold inhalation due to age, weight, and any pre-existing health conditions. Some kids can be affected by mold and have little-to-no symptoms; others can suffer from fatal symptoms. When a child inhales mold they may experience nasal congestion, trouble breathing, coughing, sore throat, and other allergy-like symptoms. If these persist over time, your home needs to have a professional perform mold removal in Toronto. If your child has asthma, mold spore exposure can lead to more frequent attacks and cause lung bleeding if ingested. Most importantly, infants who are at risk of developing hemorrhagic pneumonia have a higher chance when exposed to mold.
Skin Irritation
Children, especially infants, tend to have sensitive skin and are prone to allergic reactions and rashes. When exposed to mold in the home, your children may experience these symptoms. Skin irritations caused by mold cause itchiness, redness, dryness, and swelling that can be very uncomfortable for your child. It is essential to look out for your children picking at any skin irritations caused by mold spores as it can lead to infections, creating more health complications. If you think your child has been exposed to mold, Canada's Restoration Services can quickly and efficiently remove mold in the home.
Choose the Right Mold Removal Company in Toronto
You've found mold in your house - stay calm. The first thing you should do is contact a professional mold restoration company that is reliable, credible, and has upfront pricing. Canada's Restoration Services does just that! Our customers are the core of our business which is why we provide amazing customer service and affordable prices. When you suspect mold is present in your home, call a professional to ensure you can go back to healthy living.