How to Keep Your Home Safe This Thanksgiving
Posted in Mold Removal, on October 02, 2023
---
Thanksgiving marks the unofficial start to the holiday season in Canada, and with the holiday comes more time at home, from hosting guests to days off at work. Before the holidays kick into full gear, it's essential to address any restoration concerns you might have before visitors arrive. With a reliable restoration company in Toronto, such as Canada's Restoration Services, you can streamline all of your cleanup and repair needs at home, from water damage to mold removal in Toronto. Our experienced restoration experts are IICRC-certified, offering fast and effective services.
Here are our top tips to keep your home safe from contaminants and damage this Thanksgiving.
Ensure You Have Sufficient Ventilation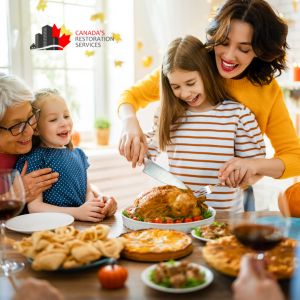 One of the most common but lesser-known triggers for mold infestations is inadequate ventilation. When you're cooking or running heating systems on your property, it's vital that you ensure there is enough ventilation to keep air moving. When indoors cannot cycle out, it becomes trapped and exposed to heat. In that air are often mold spores that will settle in kitchens, bathrooms, basements, and attics, replicating themselves with the help of a hot and stuffy environment. By checking your attic ventilation, kitchen fans, and bathroom vents, you can effectively prevent mold. If you notice an infestation starting to form on your property, don't hesitate to contact the experts at Canada's Restoration Services for fast mold removal in Toronto.
Manage Moisture Sources
Moisture typically goes hand-in-hand with mold. When there is water damage or simply an increase in humidity levels, the likelihood of mold outbreaks forming increases significantly. If you have a plumbing emergency, flood, or leak, don't try and remedy it yourself. If the area is not dried and restored skillfully, mold may still appear. Instead, contact Canada's Restoration Services. As a leading restoration company in Toronto, we offer both water damage and flood cleanup services, as well as mold removal services. Our tactful approach to water damage restoration will minimize the onset of mold so you can proceed with your holiday plans without disruption from future mold outbreaks in the following days.
Recognize the Signs of Mold
Mold is not always immediately noticeable to most people, so it's helpful to identify the early warning signs. Mold will typically appear dark or earth-toned in colour on surfaces made of organic matter like wood, gypsum board, or insulation. If you notice spotted patterns and discolouration, it's likely mold. Recognizing these signs will allow you to call in reinforcements at Canada's Restoration Services faster for remediation services.
If you suspect that there is mold growing around your property, schedule a mold inspection with the experienced restoration experts. Trained and certified professionals will scour the property targeting to identify the most common areas susceptible to mold so you can start the remediation process before your guests arrive. Early intervention with mold removal services will minimize the damage mold can do to your building materials and protect your indoor air quality so everyone in your home can breathe safely.
IICRC-Certified Mold Removal Services in Toronto
If you're worried about mold this Thanksgiving, turn to the leading restoration in Toronto and across the country. Our experts at Canada's Restoration Services are here to help you manage mold successfully.