How to Keep Your Commercial Facility Safe from Mold
Posted in Mold Removal, on June 29, 2023
---
Mold infestations are tough to deal with. While mold removal in Toronto is necessary to eradicate the traces of mold in your commercial property, several measures must be in place to manage mold and keep it from returning with a vengeance. If mold is lingering in your commercial facility, not only will it have a distinct and unpleasant odour, but it will also cause adverse health effects and may negatively impact your visitors' experience. You can protect your property by keeping humidity levels low and ventilation high and conducting regular mold inspections in Toronto with the certified pros at Canada's Restoration Services.
Read on to learn about mold in your commercial property and how to minimize future infestations.
Mold Growth in Commercial Properties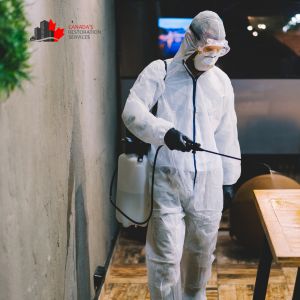 Before you go about preventing future mold growth, the cause of growth needs to be addressed. If not, outbreaks may keep coming back. Mold requires a water source in order for it to grow. A water source can come from a burst pipe, a leak in the roof, an appliance leak, or poorly sealed windows and doors. Other common moisture problems include blocked gutters, inadequate ventilation surrounding appliances, like a dryer, or degraded insulation.
Where Mold Hides
While mold will flourish and grow quickly on organic materials, it has the ability to grow anywhere on your property. Mold infestations often hide in hard-to-see areas, especially dark and cramped spaces, such as within wallpaper, underneath carpets, in attics, or in air ducts. Sometimes, a mold outbreak can become widespread and, as a result, make it easier to see. Common visual indicators of mold include dark spots and patterns scattered on walls, ceilings, and sometimes even floors. If you suspect mold is lingering, reach out to Canada's Restoration Services for a mold inspection in Toronto. In the instance that a mold inspection uncovers mold, our team will conduct comprehensive and safe mold removal.
Mold and Health Implications
When mold grows, it will severely affect the air quality and, in turn, cause health implications. Exposure to mold over a period of time may lead to numerous adverse health effects, such as congestion, wheezing, shortness of breath, migraines, skin irritation, eye irritation, and fatigue. For those with respiratory issues, these symptoms may be heightened. Due to the serious health effects, it is key to manage the presence of mold in your commercial property. Not only will mold infestations make your employees feel ill and exhausted, but they will also create an unwelcoming experience for visitors.
Common Types of Mold Found in Commercial Facilities
There are over a hundred different types of mold, but there are common types that are found in commercial buildings. Chaetomium is an allergenic species of mold that has a white, fuzzy appearance. Over time, though, its notable white colour turns dark, which can be mistaken for toxic black mold. Aspergillus mold is one of the more prevalent types of mold that infects humans. Aspergillus is prominently found in areas with excessive humidity and has a yellow-green appearance. Stachybotrys mold is a toxic black mold that is often found in areas that have fallen victim to water damage.
Eliminating Outbreaks with Mold Removal
No matter which type of mold you discover, certified professionals remove it. Do-it-yourself methods, like bleach or vinegar solutions, are not safe or practical. Professional mold removal from Canada's Restoration Services includes air quality testing, third-party lab testing, and advanced tools and techniques to totally eradicate it. By investing in professional mold removal costs you can get rid of existing infestations and prevent them from returning.
Keeping Your Property Safe From Mold
When it comes to preventing mold from infiltrating your commercial property and avoiding its negative health effects, there are numerous measures to put in place. First, leaks and other sources of water damage must be addressed and repaired. Without doing this, mold infestations will keep returning.

Secondly, ventilation needs to be constant. This can be done by fixing ventilation systems, improving air circulation by keeping windows open, and turning on fans in small areas like kitchens or bathrooms. Improving airflow can also be done by cleaning air vents, filters, and exhaust fans.
Another critical way to ensure your property is safe from mold and manage humidity is by investing in a dehumidifier. Keeping your commercial property's humidity level under 50% may be challenging, so it'd be wise to install a commercial dehumidifier.
Work With Canada's Restoration Services
If you spot mold in your commercial facility, contact Canada's Restoration Services. Our team of trusted and certified professionals will eliminate mold from your property and advise you on how to minimize the risk of it returning. Our mold inspections and removal processes are complex, intricate, and will leave your property free of pesky mold infestations.