How to Identify Mold in Your Home
Posted in Mold Removal, on May 15, 2023
---
Mold is something no property owner ever wants to deal with, but the unfortunate truth is that most homes will be a victim of an outbreak at some point. In fact, many people will need mold removal in Toronto on multiple occasions, especially when do-it-yourself remediation is attempted. When mold starts to enter your home, recognizing the signs promptly and addressing it with mold testing in Toronto, then removal is the best way to mitigate the harmful effects on your property and loved ones. At Canada's Restoration Services, we offer comprehensive mold removal services in Toronto, from inspections and testing to remediation and restoration. With our industry-leading technology and experienced IICRC-certified technicians, you can expect comprehensive results.
Read on to learn more about how you can identify mold in your home.
Recognize the Causes of Mold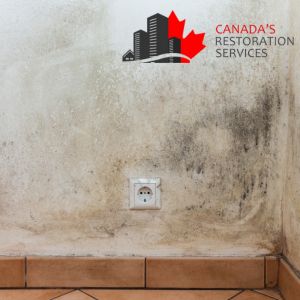 Mold is a category of fungus that exists in nature and spores travel are almost always circulating through the air. In fact, the City of Toronto has reported the discovery of over 500 species, indicating that there are many more than have yet to be identified. For mold to start colonizing indoors, a few conditions are required. Moisture is the main catalyst for mold infestations. It only takes about 24-48 hours following a leak, flood, or other water damage incident for an outbreak to start forming. When you notice water damage around your property or signs of a hidden leak like warped floors, bubbling paint, or decaying drywall, contact a trusted restoration company in Toronto for fast and effective removal of mold. Other conditions that contribute to the onset of mold include low or limited ventilation, dark or hot environments, and excessive cellulose or organic material environments.
Areas That Commonly Need Mold Removal
Based on the conditions that lend themselves to mold outbreaks, mold is often found in attics, basements, crawlspaces, kitchens, and bathrooms. While mold can infiltrate other rooms, these areas are most prone to water damage in Toronto and often have an abundance of cellulose or organic materials to serve as a food source to the mold.
Pay Attention to Signs of Mold Outbreaks
During the early stages of an outbreak, mold starts to grow quietly without making much of a distinction. But as the mold starts to expand, the most distinctive sign of an outbreak is a pungent musty odour that is often described as earthy. When infestations occur in commonly used rooms, you may notice patterned stains in earth-toned colours on organic surfaces like drywall, ceilings, exposed wood, and flooring.
If you don't see or smell mold, but you or others in your home have been experiencing allergy or cold-like symptoms for an extended period of time, you should schedule mold testing in Toronto. During inspections and testing, mold technicians will identify the source and scope of mold as well as the species. Symptoms like wheezing, excessive coughing, continued headaches, and skin or eye irritation, should be considered a warning of mold. If you notice these issues, contact Canada's Restoration Services for a full range of mold removal in Toronto.
Comprehensive Mold Removal Services Near Toronto
When you think that mold may have infiltrated your home, look out for the signs and the causes of an infestation. Our leading of technicians have over 15 years of experience and IICRC-certification enabling us to give you effective and reliable results. In the case of water damage in Toronto, contact us right away and our experts will be on-site and ready to remediate in 45 minutes or less.