How to Identify Insulation Requiring Asbestos Removal in Mississauga
Posted in Asbestos Removal, on February 09, 2022
---
Asbestos fibres and their efficient heat resistance properties were the main reasons why construction companies regularly incorporated the mineral when developing insulation for home and commercial buildings. Generally, most (if not all) types of asbestos-containing insulation are accurately and safely identified through professional asbestos testing in Mississauga. However, some forms of insulation are more easily identifiable than others.
If you suspect that your property's insulation contains asbestos, do not attempt to identify the mineral on your own. Professionals at Canada's Restoration Services are certified and trained for asbestos removal in Mississauga, making them the safest choice for the asbestos abatement procedure.
Identifying Asbestos Insulation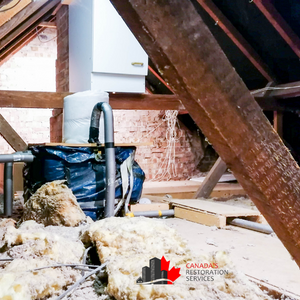 While professional asbestos testing in Mississauga is the most efficient and reliable way of identifying asbestos-containing insulation, our experts are also knowledgeable of what types of insulation may contain asbestos, as there are some recurring suspects.
There are four common types of asbestos-containing insulations: spray-on, loose fill, blanket wrappings and block insulation that require asbestos removal in Mississauga.
Spray-on insulation containing asbestos was used for filling in hard-to-reach gaps and spaces. This type of insulation poses a significant health hazard due to its friable condition. It can be easily distrubed and send asbestos fibres airborne, increasing the risk of inhalation.
Asbestos incorporated into loose fill insulation was designated for attic floors or for hollow spaces within walls and other building structures. Despite its fluffy appearance, this type of insulation is also susceptible to going airborne quickly at the slightest sense of disturbance. Vermiculite insulation is easily recognized thanks to its silvery brown or gold glitter properties, and it also resembles potting soil amendments.
Blanket insulation containing asbestos was used to wrap and cover pipes, plumbing, ducts, and HVAC components. This type of asbestos-containing insulation can also easily crumble and release hazardous particles into the air.
To insulate walls, rigid block panels of asbestos-containing insulation would be glued to them. This type of insulation was often made of almost pure asbestos, and just like the other three forms of asbestos-containing insulation, block insulation is also very friable.
All forms of insulation, whether they contain asbestos or not, are typically found in the invisible spaces of your home. This includes attics, crawl spaces, basements, and behind closets, floors, ceilings and walls. No matter the form of insulation, you should always exercise caution by having a professional conduct the asbestos testing in Mississauga. The same goes for the process of asbestos removal in Mississauga. Not only does this ensure your own health and safety, but it also guarantees a complete and comprehensive abatement of the mineral from your property.
Asbestos Removal in Mississauga for Insulation
Once our team at Canada's Restoration Services has identified and confirmed any asbestos-containing insulation on your property, the next step we take is a full-scale removal of the material.
Our cautionary and intricate approach to asbestos removal in Mississauga involves setting up containment gear and equipment to isolate the mineral to prevent any risk of cross-contamination. The insulation is then sprayed with a binding agent so that the material doesn't go airborne. Once the plaster hardens, we place the asbestos in a hazard bag for a safe and appropriate disposal.