How to Control Moisture In Your Home
Posted in Mold Removal, on July 08, 2021
---
Edmonton is not known for its temperate, breezy, dry weather. In the summer, humidity is the norm, and winter brings snow regularly. When it comes to mold removal in Edmonton, it's essential to control humidity in your home, despite what's going on outside. If your home is vulnerable to water damage or increased humidity and moisture, there's a higher risk for mold infestation. While mold removal services in Edmonton, like Canada's Restoration Services, can effectively remediate mold in your home, but unless moisture is managed correctly, mold can return. Here are some ways to identify excessive humidity in your home and learn how you can control it.
Signs of Excessive Humidity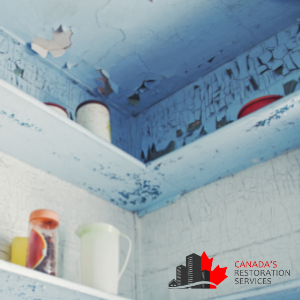 High humidity levels are not only uncomfortable, but they're also unsafe for your home and your family. Excessive humidity threatens the condition of your house and its structural integrity. Pay attention to damaged wood, peeling paint, wet insulation, and water-damaged sidings, as there are clear indicators of high moisture levels indoors. Condensation on cooler surfaces, like pipes, mirrors, or windows, are all telltale signs that moisture needs to be controlled.
Moisture is conducive to mold, so if you notice your home is excessively humid, it's wise to make a note of any strange odours that can be linked to mold and inquire about mold testing and mold removal services in Edmonton. When you call Canada's Restoration Services, our IICRC certified team of experts can be at your home within the day for quick and professional mold removal in Edmonton.
Proper Ventilation
Rooms that are more vulnerable to moisture, like the kitchen, bathrooms, and basement, should have proper ventilation. While not every house comes built with adequate ventilation, you may have to install additional vents to minimize humidity. This can be in the form of ventilation fans or attic and roof vents. If you don't have the right ventilation fans, open a window to let the air flow.
A dehumidifier is an additional way you can improve ventilation without breaking the bank. They often work best when placed in the basement, but it's also possible to get a large one for the entire property. Instead of cooling the air, like an air conditioning unit, a dehumidifier keeps the same temperature but draws in the moisture.
Key Ways to Manage Moisture
In addition to proper ventilation, other vital ways to manage excessive humidity in your home are through weatherstripping, caulking, and humidity monitors.
Weather Stripping
Weatherstripping around the doors and your home's windows will create an airtight seal to prevent moisture from coming in.
Caulking
Caulking works the same as weather stripping, but typically, it's only used on high moisture surfaces, such as faucets, sinks, and tubs.
Humidity Monitors
Humidity monitors are also an excellent investment; they report both the temperature and moisture levels, allowing you to correctly monitor and manage humidity levels and react accordingly.
The key to managing moisture in your home is staying vigilant and prepared. While humidity is inevitable, it's best to not leave it unchecked. If mold does infiltrate your home, you can always call Canada's Restoration Services in your home. For a full range of mold-related services, from inspections and testing to comprehensive abatement, the team at CRS is fast, diligent, and dependable for all your restoration needs. Our team specializes in mold removal in Toronto, Vaughan, Brampton, Ottawa, Mississauga, Edmonton, and other major Canadian cities.
Call us today to get started on creating a mold-free home today.