How to Check for Mold After Water Damage Restoration
Posted in Mold Removal, on November 11, 2022
---
Even after water damage restoration is complete, mold removal in Toronto is often necessary. The moisture left behind attracts spores and often leads to outbreaks that quickly spread. Understanding the impact of mold and its relationship to water damage is vital when it comes to protecting your commercial or residential property as well as the people in it. With Canada's Restoration Services, you can get comprehensive water damage restoration and efficient, effective mold removal in Toronto.
Here's a guide on how to look for mold after water damage in your property.
Recognize the Signs of Mold Through Senses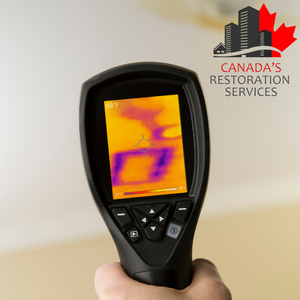 There are a couple of ways to help you easily identify mold, like your sight and smell. Typically, you'll smell the pungent, earthy odour of mold before you see it. If you enter a room in your property and catch a whiff of the distinct smell, you have a mold problem. Rather than search high and low in your property for visible signs of the infestation, contact Canada's Restoration Services for a comprehensive mold inspection. Following water damage, it may be challenging to discover all sources of mold growth within your home. A mold inspection from our trusted professionals will find mold, no matter how out of sight and hard to reach. Aside from the smell and visible signs of mold, keep note of any changes to your health. If exposed to mold, you may experience congestion, wheezing, migraines, and other symptoms that resemble seasonal allergies.
Conditions That Lead to Mold
Primary conditions that lead to mold infestations include excessive moisture, low light, lack of ventilation, and the presence of organic materials. With water damage and flooding, even if water damage restoration is completed, there's still a risk of moisture being present throughout your property, making it susceptible to mold outbreaks. Organic materials also act as a food source of mold spores, so if wooden materials or insulation get damp, mold spores will feed off these and continue to grow until mold removal in Toronto is completed.
Areas Mold is Likely to Infest
Common areas in your property where mold spores will settle in include bathrooms, attics, basements, laundry rooms, and kitchens. While mold will infest any part of your property that has experienced water damage, these areas have higher moisture levels and higher chances of flooding or water damage occurring. With the increased risk of water damage, even small leaks, mold infestations are inevitable.
Mold Inspections and Air Quality Testing
If your property has experienced water damage, whether it be from flooding, sewage backup, leaks, or a pipe burst, it's imperative that you contact a professional for water damage restoration. Once water damage restoration, repair, and cleanup are complete, be mindful that your home may fall victim to mold infestations, and contacting a professional service for a mold inspection is wise. If mold is found, our team of certified and trusted technicians at Canada's Restoration Services will conduct thorough and advanced mold removal and air quality testing to ensure your property is safe and healthy.