How to Avoid Exposure to Asbestos in Your Home
Posted in Asbestos Removal, on May 25, 2023
---
There is nothing more frightening for a homeowner than being exposed to asbestos. Asbestos exposure presents severe health risks that often don't have cures. If you live in an older property, it's best to have asbestos testing to see if your home has asbestos and what kind; this will help determine the level of asbestos removal required. If you face an asbestos issue in your home, don't hesitate to contact Canada's Restoration Services, certified professionals who are leaders in asbestos abatement in Toronto and large cities across Canada.
Read on to learn how to avoid exposure to asbestos in your home.
How Does Asbestos Cause an Issue for Homeowners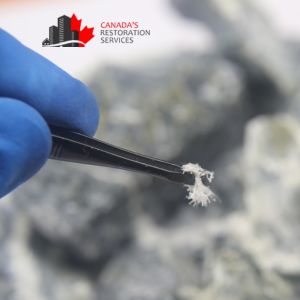 Asbestos was frequently used in many building materials until the 1990s before people knew the severe health risks it posed when it began to degrade. Asbestos was used for vermiculite insulation, tiles, duct wraps, drywall and more. If asbestos is present and becomes disturbed, you risk asbestos exposure.
How to Avoid Asbestos Exposure
If your home is a bit older and you are about to begin maintenance or renovations on the property, you should book an asbestos inspection before starting any work in the house. If asbestos is discovered on the property after testing, you must retain professionals to conduct a thorough asbestos removal.
Other measures to avoid asbestos exposure is to not vacuum or sweep fallen debris from cracked materials within the home that contain asbestos.
Also, seal off an area where you suspect asbestos and keep pets and children away from the area. Finally, don't attempt DIY asbestos removal; this can increase the risk of exposure and harm, including related illnessees like asbestos-induced Mesothelioma. Asbestos removal is complex and multifaceted and should only be handled by professionals.
Asbestos Abatement in Toronto
Asbestos removal in Toronto requires several steps to safely and thoroughly remove asbestos from your home.

You should book an asbestos inspection as soon as you suspect your property is at risk of asbestos exposure. Canada's Restoration Services will thoroughly inspect your property and retrieve samples where asbestos is suspected. All samples will be sent for third-party testing at an accredited laboratory.
If asbestos is present on your property, containment measures must be implemented to prevent cross-contamination. The use of negative air machines/air scrubbing machines with HEPA Filters will be used to clean the air and help the prevention of cross-contamination.
At this point, asbestos is sprayed, and once wet, it is safely removed and disposed of. You should never attempt to do any of this work on your own as certified professionals are qualified and equipped to properly perform asbestos removal without causing risk to themselves or others.
Canada's Restoration Services for Asbestos Removal
Canada's Restoration Services are certified professionals that have performed asbestos removal services for properties for over 15 years. We have won awards and become leaders in the restoration industry as we always give meticulous care to our clients. If you are facing an asbestos issue in your home, don't worry; call our experts, and we can help you remove asbestos from your property safely and effectively.